Leap: How to Thrive in a World Where Everything Can Be Copied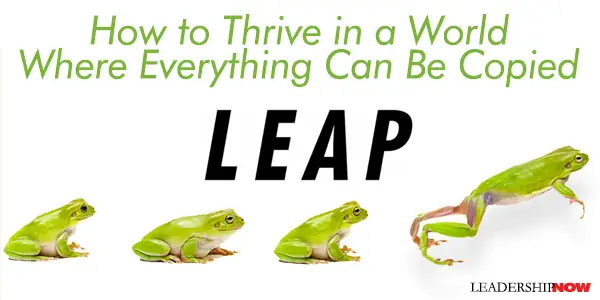 I
N TODAY'S competitive environment, where latecomers can copy almost any product or service, companies can no longer just be good at what they do. Is the displacement of early pioneering companies an inevitable fate in the modern economy? Outlasting copycat competition in any industry is difficult; doing so over decades is nearly impossible—unless you
leap
.
Howard Yu explains in Leap: How to Thrive in a World Where Everything Can Be Copied, how a business can shield itself from copycats. (The stories are absorbing and alone are worth the price of the book.)

Yu identifies five fundamental principles that allow companies to make a leap and stay successful in the face of such competition.
Principle 1: Understand your firm's foundational knowledge and its trajectory
Protecting a business begin first by knowing its foundational or core knowledge. Here Yu examines what not to do in the case of Steinway and copycat Yamaha. Steinway & Sons spiraled into decline "in large part due to its myopic obsession with craftsmanship at the expense or technological advancement and automation." He notes, "As history has proved, what begins as an act of human creativity by a world-class expert usually ends in machine automation." Steinway allowed its strengths to become its weakness. "In other words, core competencies turned into core rigidities, preventing the firm from responding appropriately to the strategic threat Yamaha posed."
What is the core knowledge discipline that is most fundamental to your company and how widely available is it?
Principle 2: Acquire and cultivate new knowledge disciplines
Yu examines pharmaceutical companies like Novartis and the soap company P&G to see how they moved across knowledge disciplines to leverage or create new knowledge on how their product was made. "Only by forging ahead, rather than refining what has already been, can a pioneer avoid being caught by copycats."
Two forces—the unwillingness to cannibalize current sales and the tendency to leverage what we have today—leads firms to give their advantage away to copycats. As P&G chairman William Cooper Proctor said in 1933, "This [synthetic detergent] may ruin the soap business. But if anybody is going to ruin the soap business it had better be Procter & Gamble."
When making the leap timing is important. Steve Jobs said, "Things happen fairly slowly." Yu writes, "This is an important lesson. Successful executives often exhibit a bias for action. But it's even more important to separate the noise from the signal that actually pinpoints the glacial movement around us. Listening carefully to the right signals requires patience and discipline."
Principle 3: Leverage seismic shifts
Where should we look for opportunities to leap? "We must identify those forces that matter the most in the coming decades and reconfigure our competencies ahead of others." The two intertwining forces that will propel all companies into the second half of the twenty-first century are the rise of intelligent machines and the emergence of ubiquitous connectivity. We must think about how we can use connectivity to mass-produce solutions and solve complex problems and how to use intelligent machines to automate that process in our own businesses.
Principle 4: Experiment to gain evidence
There are puzzles and there are mysteries. To solve a puzzle, you need the correct data—better intelligence and sharper calculation. Mysteries, on the other hand, do not have an answer. The answer has to be invented. It requires a shift in thinking. It requires creativity. "Executives must infuse knowledge work with creativity while automating everything that is routine."
Ask: "What world am I living in? What are the biggest trends in this world? How do I align my company's activities so my organization gets the most out of these trends and cushions the worst?"
And while experimentation is good, at some point someone has to pull the trigger. Stop the experimentation process and fully commit to an execution strategy. There is an abundance of ideas but not enough execution.
Principle 5: Dive deep into execution
"The biggest risk that threatens the survival of a large and complex organization lies in political infighting and collective inaction." Looking at example after example, Yu found that "Every time an organization successfully leaps into a new knowledge base, the senior leaders need to go beyond formulating a strategy and should get their hands dirty during its implementation. Corporate leaders need to absorb career risks…. Success requires an exact combination of knowledge power and positional power." Maintaining the entrepreneurial spirit is the function of the CEO.
Looking at the successes and failures of startups, the difference "was not that the successful startups got it right the first time but that they learned from their mistakes early enough to shift gears. They had just enough money left over to restart after getting it wrong."
How do you thrive in a world where everything can be copied? You change the rules of the game. You leap from one knowledge discipline to another. "It turns out that regardless of the industry, it is possible to radically rewrite the rules of the game so as to demand a whole new field of knowledge in support of the change." We can't stand on what got us here, we must innovate.
* * *


Like us on
Instagram
and
Facebook
for additional leadership and personal development ideas.
* * *


Posted by Michael McKinney at 07:44 AM
Permalink | Comments (0) | This post is about Creativity & Innovation