Moving Your Agenda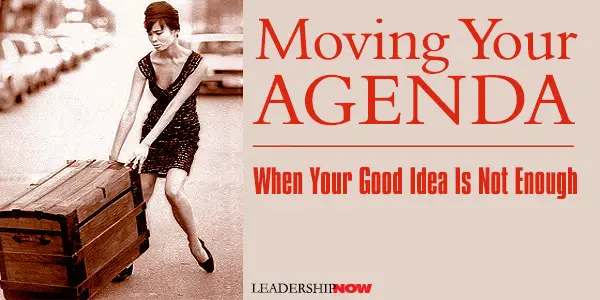 M
OVING YOUR AGENDA is not always easy. Yet, as a leader, you are remembered because you were able to move an agenda.
Samuel Bacharach writes in The Agenda Mover, that leadership is "about your capacity to take your ideas and work them through the maze of resistance, overcome challenges, and put those ideas in place. Leaders are remembered for their accomplishments, not their promises."
To that end, Bacharach has provided a practical guide to do just that. He presents a four-step process that anyone can learn to master with practice.
To move an agenda, you need to learn to harness what others have to offer if for no other reason than you have blind spots. You need to build a coalition and develop the managerial skills required to maintain forward movement. It requires a campaign of pragmatic leadership. "Agenda movers are aware that their self-interest, emotions, cognitive capacity, and background can trip them up if they are not careful and that being smart is not a guarantor of success."

The four major stages in any campaign are first, you must anticipate the agendas of others. Second, you must mobilize your campaign. Third, you need to negotiate buy-in. And fourth, you must sustain momentum. In this post we will focus on the first stage—Anticipate the Agenda of Others—because this is the stage that most of us miss or move too quickly over and set ourselves up for frustration or failure.
Anticipate the Agenda of Others
This means knowing where others are coming from. Putting yourself in their shoes. Empathy. Our own egos are the enemy here.
You need to know who you are dealing with—the stakeholders. Bacharach lists four: Top Dogs (organizational decision-makers), Gatekeepers (the liaisons), Gurus (senior individuals, external consultants, the board of directors), and the Players (people directly impacted by your agenda). The players are your essential ally. Never underestimate them.
All of these stakeholders have their own agendas and ways they go about accomplishing them. There are the Tinkerers versus the Overhaulers and the Planners versus Improvisers that make up the Four Agenda Archetypes. There is the Let's-Be-Careful Traditionalist, the Cross-That-Bridge-When-We-Come-to-It Adjuster, the Push-the-Envelope Developer, and the Tear-the-Envelope Revolutionary. If you know where you are coming from and where others are coming from you can begin to see what might motivate someone to join your change effort. This framework can help you do that.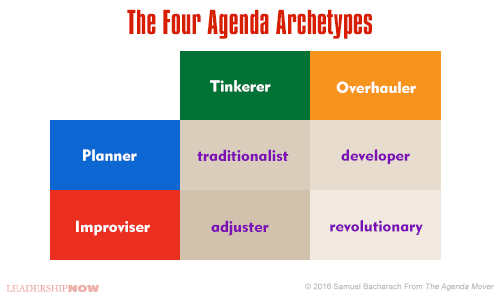 Distinguishing traditionalists from developers, developers from adjusters, and adjusters from revolutionaries allows you to identify where others are coming from quickly and efficiently. In making these distinctions, be careful not to assume that these agendas are immutable or that people are uniformly consistent from one situation to another.
Of course, we are a factor in the process. We have our own motivations and our preferred ways of dealing with change. It is critical that we know where we are coming from too. We may need to adjust the approach we are comfortable with in order to move our agenda.
The chart below helps you to see how your motivation relates to the motivation of others. "Allies are those who share your agenda, and it is easy for them to see where you're coming from." Traditionalists can anticipate that a Revolutionary will resist their approach and agenda. But here is a key insight:
Agenda movers are leaders who understand that leading isn't about meeting jubilantly with allies or reasoning earnestly with resistors. Successful leaders understand that the real challenge is in the gray area—converting potential allies into allies and making sure the potential resistors are not transformed into full-fledged resistors. Potential allies and potential resistors disagree with either your approach or your goals. Skillful negotiation may persuade these individuals to reconsider aspects of your agenda that differ from theirs. If you are not careful, potentials can easily switch to resistors.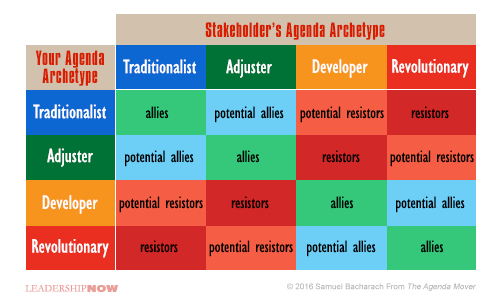 Mobilize Your Campaign
Timing and tone make a difference. "To mobilize others you must: focus your message; justify your agenda; establish your credibility; and gauge your support." You do not want to oversell here. Choose your words carefully to justify why your agenda should be supported. Make sure your idea is well thought through and you demonstrate the ability to see it through.
Negotiate Support
"Getting the buy-in is about shifting your focus from sharing your passion for your idea to really thinking about where the other party is coming from." It is a process of reducing their anxiety. How will it benefit them? If they come on board, it is reasonable to assume that it can be done, will they get any of the credit, and are they protected if it fails. They want to know what changes for them. Your approach to the situation will make a big difference. You can approach it with a controlling, hardline mindset if this is a one-time thing. On the other hand, you can try a more cooperative mindset that seeks to pull-them-in. This mindset may allow you to build supporters for any future agenda you may have.
Sustain Your Campaign
This is where the rubber meets the road. After you've won people over, you have to get it done. "You may have sold your idea and created a coalition, but you can only sustain momentum and get results if your team can keep up its energy and focus in spite of challenges, obstacles, and setbacks." To create traction, you need to celebrate small victories, make sure they own the idea and manage with agility. You have to be smart about how you present yourself and deal with others. You can micromanage your team, but you are better acting as a facilitator coach.
To go the distance, your team must act with a collective purpose. You can sustain the campaign mindset by reminding them why they are part of your effort, reinforcing the payoff, keeping an optimistic outlook, and maintaining your credibility. It is crucial to remind people not only about the importance of the mission but also about how important they are to the mission.
Anyone successful at moving an agenda knows that it is not a solo effort. "Failed leaders are those who assume that they are the most important player."
The Agenda Mover is a book that leaders at all levels would benefit from reading. It is common to see people trying to push their agenda without first defining what they are up against and without any understanding of the impact they themselves are having on others. Without that knowledge, we often resort to destructive behaviors to get our agenda moving. In that regard, this book is critical for anyone with an idea they want to have taken seriously.
* * *


Like us on
Instagram
and
Facebook
for additional leadership and personal development ideas.
* * *

Posted by Michael McKinney at 12:45 PM
Permalink | Comments (0) | This post is about Leadership , Problem Solving