What Sets Apart the Greatest Teams of All-Time?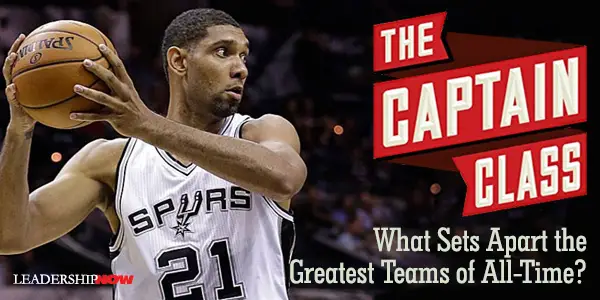 S
AM WALKER revisits the popular idea of leadership. In
The Captain Class
, Walker describes what makes an elite captain by analyzing the leadership of sixteen of the most dominate teams in history. What he found is that each team had the same type of captain—a singular leader with an unconventional skill set that drove the team to achieve sustained, historic greatness.
Ironically, it wasn't the Roy Keane's or the Michael Jordan's that made it happen. "The best leaders in sports history were not mesmerizing characters. They didn't always make for great television. That's what we've come to expect, however. So that's what we continue to get." And so teams choose the wrong people to lead them. They promote people with the wrong characteristics. It's typically not the player with the highest market value. What it takes to lead is not always what it seems.
What Walker discovered are the Seven Traits of Elite Captains. They explain why captains of exceptional teams are so influential. And it explains why we often look for the wrong kinds of leaders to lead us.
1. Extreme Doggedness and Focus in Competition
Elite Captains just keep coming. They overcome a group dynamic known as social loafing. It's what happens when a single person's contribution to a team is not noticeable or unidentifiable. We put less effort in. An Elite Captain improves everyone else's performance by leaving nothing in reserve themselves. Their willingness to give everything—all of the time—encourages the rest of the team to raise their effort level to match.
2. Aggressive Play That Tests the Limits of the Rules
Elite Captains play the edges. Walker identifies a "hostile" variety of aggression to do harm and an "instrumental" variety that is used in pursuit of a worthwhile goal. "While the captains of Tier One often did ugly things, they did so while operating within the fuzzy confines of the rules of sports. (Although you can try to parse aggressive behavior and justify some but not all, it does matter how you win. Contrary to the examples of a couple of Walker's Captains, winning at any cost is not a sustainable value.)
3. A Willingness to Do Thankless Jobs in the Shadows
An Elite Captain serves. This finding is worth giving a little extra thought to. It is the person willing to carry the water that makes the best captain. "In fact, superior leadership is just as likely (if not more so) to come from the team's rear quarters than to emanate from its frontline superstar."
Walker relates the story of the San Antonio Spur's Tim Duncan. Duncan suppressed his own skills (and salary) in order to promote the goals and values of the team. "By lowering himself, he was able to coax the maximum performance out of the players around him."
Walker notes: "One of the great paradoxes of management is that the people who pursue leadership positions most ardently are often the wrong people for the job. They're motivated by the prestige the role conveys rather than a desire to promote the goals and values of the organization."
4. A Low-Key, Practical, and Democratic Communication Style
Effective teams talk to one another and the person that fosters that culture is the captain. "They engaged with their teams constantly—listening, observing, and inserting themselves into every meaningful moment. They didn't think of communication as a form of theater. They saw it as an unbroken flow of interactions, a never-ending parade of boxing ears, delivering hugs, and wiping noses."
5. Motivates Others with Passionate Nonverbal Displays
Jack Lambert of the Pittsburgh Steelers, went out of his way on the field "to project extreme passion and emotion." This is distinct from verbal communication. Great captains project their feelings to have a strong impact on the thoughts, feelings and emotions of their teammates. Communication-based on displays rather than words.
6. Strong Convictions and The Courage to Stand Apart
All of the Tier One captains stood up to management in some way in their careers. It served to bring the teammates closer together and cement their leadership. Some dissent is a good thing and captains should stand up for the team even at the risk of displeasing superiors. But they focus on task conflict and not personal conflict. "Tranquility isn't more important than the truth—at least the kind that's told by a captain who is known to be fiercely committed, who labors in the service of the team, and who avoids attacking people on a personal level."
7. Ironclad Emotional Control
Elite Captains have a kill switch; they are able to mute their personal emotional tendencies. Emotion and enable and it can disable. The Elite Captains walled off "destructive emotions in order to serve the interests of the team. They developed a kill switch for negative emotions."
What Does This Say About Leadership?
Walker says we overcomplicate things. "We've been so busy scanning the horizon for transformational knights in shining armor that we've ignored the likelier truth: there are hundreds upon thousands of potentially transformative leaders right in our midst. We just lack the ability to recognize them."
We are often swayed by the force of a person's personality or talent, but real leadership is not readily found on a resume. It's found in the day-in and day-out activities that reveal who they are.
The truth is that leadership is a ceaseless burden. It's not something people should do for the self-reflected glory, or even because they have oodles of charisma or surpassing talent. It's something they should do because they have the humility and fortitude to set aside the credit, and their own gratification and well-being, for the team—not just in pressure-packed moments but in every minute of every day.
* * *


Like us on
Instagram
and
Facebook
for additional leadership and personal development ideas.
* * *

Posted by Michael McKinney at 01:00 AM
Permalink | Comments (0) | This post is about Leadership