The Captain Class
: The Hidden Force That Creates the World's Greatest Teams
Sam Walker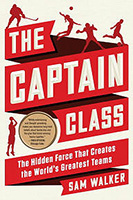 Format:
Paperback, 368pp.
ISBN:
9780812987072
Publisher:
Random House Trade Paperbacks
Pub. Date:
May 1, 2018
Average Customer Review:


For Bulk Orders Call: 626-441-2024

Description and Reviews
From
The Publisher:
The former global sports editor of
The Wall Street Journal
profiles the greatest teams in history and identifies the counterintuitive leadership qualities of the unconventional men and women who drove them to succeed.
The secret to winning is not what you think it is.
It's not the coach. It's not the star.
It's not chemistry. It's not a strategy.
It's something else entirely.
Several years ago, Sam Walker set out to answer one of the most hotly debated questions in sports: What are the greatest teams of all time? He devised a formula, then applied it to thousands of teams from leagues all over the world, from the NFL to the English Premier League to Olympic field hockey. When he was done, he had a list of the sixteen most dominant teams ever, period. At that point, he became obsessed with another, more complicated question: What did these freak teams have in common?
As Walker dug more deeply, a pattern emerged: Each team had the same type of captain—a singular leader who drove it to sustained, historic periods of greatness.
Fueled by a lifetime of sports spectating, twenty years of reporting, and a decade of painstaking research,
The Captain Class
tells the surprising story of what makes teams exceptional. Drawing on original interviews with athletes from two dozen countries, as well as general managers, coaches, executives, and others skilled at building teams, Walker identifies the seven core qualities of this Captain Class—from doggedness and the knack for nonverbal communication to aggression and the courage to speak truth to power.
Told through riveting accounts of some of the most pressure-soaked moments in sports history—from Bill Russell's legendary "Coleman Play" in the 1957 NBA Finals to Barcelona's "Figo Game" against Real Madrid in 2000—
The Captain Class
doesn't just bring these events to life; it presents a fresh, counterintuitive take on leadership that can be applied to a wide spectrum of competitive disciplines.
The sixteen leaders who make up the Captain Class were never the most skilled, nor were they paragons of sportsmanship. They were often role players, allergic to the spotlight, and famously inarticulate. In short, they will challenge your assumptions of what inspired leadership looks like.

>
Reviews
"Well-researched, wildly entertaining, and thought-provoking. In The Captain Class, Sam Walker presents compelling narratives about the secret ingredient to the greatest teams of all time—and quickly makes you reexamine long-held beliefs about leadership and the glue that binds winning teams together."
—Theo Epstein, President of Baseball Operations for the Chicago Cubs
"In The Captain Class, Sam Walker gives us important and original insights into the mysterious ingredients of transformative leadership. A stunning mix of research and narrative."
—Susan Cain, bestselling author of Quiet
"Over the years, many books have promised to reveal the secret of building successful teams. But now Sam Walker has actually gone and done it. He's given us an idea-driven, myth-busting gem of a book that that is insightful, useful, and hellaciously fun to read. If you care about leadership, talent development, or the art of competition, you need to read this immediately."
—Daniel Coyle, bestselling author of The Talent Code
"The Captain Class is a brilliant hybrid: one-part detective story and one-part leadership book, set in the world of sports, and dedicated to a fascinating mystery: What sets apart the greatest teams of all time? I'm not even a sports nut and I couldn't put it down."
—Dan Heath, co-author of the New York Times bestseller Made to Stick
"Sam Walker has unlocked one of sports' greatest mysteries: the secret to the success of 16 team dynasties. On nearly every page, you'll be shaking your head at another revelation about how a team's dominance is hard-wired to the team captain's leadership. The Captain Class is one of the most surprising, best-written—and fun—sports books published in recent years."
—Don Van Natta Jr., Pulitzer Prize winner and New York Times bestselling author of First Off the Tee

About the Author
Sam Walker
is The Wall Street Journal's enterprise deputy editor and the author of Fantasyland, a bestselling account of his attempt to win Tout Wars, America's top fantasy baseball expert competition (of which he is a two-time champion). He lives in New York with his wife, Christy Fletcher, and their two children.