Ditch Lofty Outcome Goals and "Hit the Glove!"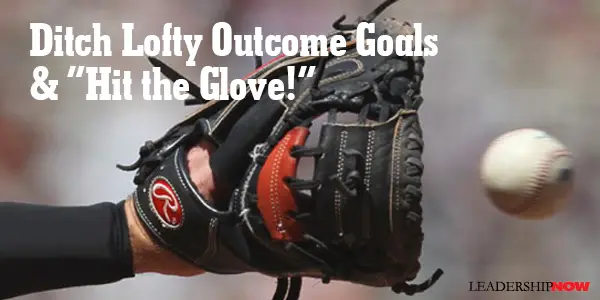 W
HEN IT COMES TO KEEPING New Year's Resolutions, the stats aren't good.
Surveys
show that while some 40 percent of us make them, only 8 percent of us keep them. We may feel exhilarated when we set a big goal, but that soon gives way to anxiety. While we all want to get better, lofty goals don't always help.
There is a way to set goals
and
achieve them. It comes from Rick Peterson, the former Major League Baseball pitching coach (of
Moneyball
fame), who guided the New York Mets and the Oakland A's to great success. He did it by getting his pitchers to
scale back their goals from lofty to bite-sized, from outcome to process
. His mantra, "Hit the glove," was not only powerful and effective, it translates well beyond professional baseball.
At the beginning of spring training, Rick would ask his pitchers, "What's your goal?" Most had the kind of long-term, outcome goals you find on the back of a baseball card — winning a certain number of games or pitching a certain number of innings.
The problem with focusing on great big goals is that you're distracted into focusing on factors outside your control. Winning a ball game involves more than just the pitcher's performance — it hinges on how many runs his team scores, how well his team fields, how well the opposing hitters handle good pitches, and even the umpire's calls. When we don't hit that big outcome goal we get demoralized, creating doubt and anxiety can hurt our performance.
Instead, Rick refocused his pitchers on short-term, bite-sized
process goals
. He told them they were professional glove hitters with one simple goal: Hit the catcher's glove as often as possible — with the right pitch.
If a player focuses on hitting that glove, he can't focus on the pressure of a loftier outcome goal. He has to concentrate on
hitting that glove
. He's not distracted by things outside his control. Hitting the glove on a high percentage of pitches is also the most probable path to achieving larger, outcome-oriented individual and team goals.
How It Translates
We can all learn to refocus on hitting that glove. I've been in sales for decades. At the start of every year, salespeople's anxieties peak. Whatever numbers they produced last year, they no longer matter. The scoreboard's back to zero. Time to prove yourself all over again.
Many sales organizations try to motivate their sales forces with talk of raising the bar and hitting even bigger numbers. But that lofty-goal approach can trigger fear and worry instead. Just like pitchers, salespeople know there are parts of the sales game beyond our control. And it's easy to lose focus amidst the cornucopia of daily distractions.
After I heard Rick's mantra, "Hit the glove!" I thought of what that meant in terms of my day-to-day sales. I settled on
high-quality interactions with customers and prospects
, meaning one that advances a sale and/or our relationship. By focusing on having daily, high-quality interactions with customers, I would make great progress toward putting a dent in my quota.
Thinking about how many high-quality interactions I should have each day, I set the initial target at two. Before you laugh and ask what I was going to do after lunch, consider the math. Two high-quality interactions per day are 10 per week, and 40 per month. Assuming one month of vacation, that's 440 per year — far more than I was averaging.
As soon as I started focusing on my new simple, short-term, bite-sized process goal — two high-quality interactions with customers each day — I began thinking about my day differently. I began prioritizing those two high-quality interactions with customers above everything else. As I considered how to invest my time, I regularly asked myself, "
Is this helping me hit the glove?
"
As a result, my focus improved remarkably. I wasted less time. I didn't give my quota a second thought. My numbers took off, and I finished the year more than 25 percent ahead of my previous year's performance. Focusing on that one small change brought about big results. So ask yourself:
What's your version of hitting the glove?
* * *
This post is by
Judd Hoekstra
. He is a leadership and human performance author, consultant, and speaker. He serves as a Vice President at The Ken Blanchard Companies, a premier leadership training and coaching company. He is also a coauthor of the bestselling
Leading at a Higher Level
as well as
Who Killed Change?
He received his bachelor's from Cornell University, where he played hockey and baseball. He also graduated from the Advanced Business Management Program at Kellogg School of Management. For more information, go to
www.juddhoekstra.com
.
Rick Peterson
has coached some of baseball's best pitchers in the past twenty years, including Cy Young Award winners and Hall of Famers.

He was the Oakland Athletics' pitching coach during the famed Moneyball era and has served as a coach with the New York Mets, Chicago White Sox, Pittsburgh Pirates, and Milwaukee Brewers. He is currently director of pitching development with the Baltimore Orioles. He holds a combined degree in psychology and art. He and Judd Hoekstra are the authors of
Crunch Time: How To Be Your Best When It Matters Most
. For more information, go to
www.rickpetersoncoaching.com
.
* * *


Like us on
Instagram
and
Facebook
for additional leadership and personal development ideas.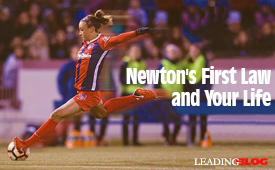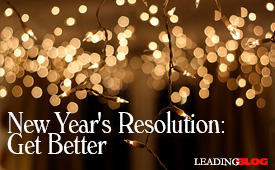 Posted by Michael McKinney at 09:24 AM
Permalink | Comments (0) | This post is about Personal Development