The Best Leadership Books of 2016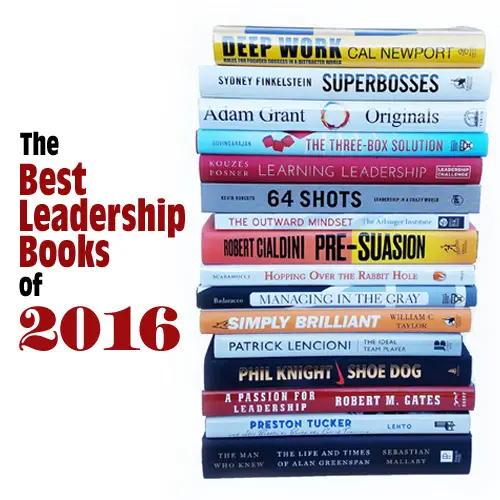 O
NCE AGAIN we see that despite our rhetoric, what we are is reflected in our leaders and leadership. Actions have consequences and continuity of character matters. We need to be "urgently" reflective because too often by the time we find out it's broken, it's been broken for a very long time.
As technology becomes more disruptive and we see more importance placed on big data and artificial intelligence, what will matter most are those things that make us human – the soft skills. Creating meaning, teaching, empathy, self control, creativity, emotional intelligence, and the ability to define consequences, will be indispensable skills to prosper in the future.
In this uncertain environment, including the mounting global economic concerns, a humble mindset will be the only thing that will unlock the most promising business, social and economic innovations. An oversized ego inevitably leads to blindness and an inability to formulate good answers.
* * *

Deep Work
: Rules for Focused Success in a Distracted World
by Cal Newport
To thrive in the new economy—the current information economy—you need to master these two core abilities: 1. The ability to quickly master hard things. (If you can't learn you can't thrive.) and 2. The ability to produce at an elite level, in terms of both quality and speed. (To produce tangible results that people value.) These two abilities depend on your ability to perform deep work. "To succeed," writes Newport, "you have to produce the absolute best stuff you're capable of producing—a task that requires depth. A deep life is a good life."
(Blog Post)


Superbosses
: How Exceptional Leaders Master the Flow of Talent
by Sydney Finkelstein
Although Superbosses may differ in leadership styles, they share a playbook that leads to extraordinary success founded on making other people successful. Superbosses can be fierce or gentle, belligerent or self-depreciating, but whatever their style, they do a much better job inspiring and teaching because they get in their trenches with protégés, leading by example and giving them personalized attention they require to move up quickly.
(Blog Post)


Originals
: How Non-Conformists Move the World
by Adam Grant
There are so few originals in life. "We find surface ways of appearing original—donning a bow tie, wearing bright red shoes—without taking the risk of actually being original. When it comes to the powerful ideas in our heads and the core values in our hearts, we censor ourselves." Adam Grant demonstrates how originality, can and should be taught and nurtured. Anyone can innovate if given the opportunity and the support. He provides practical tools to "unleash" the hidden creativity in all of us. However, not just for ourselves but also to build cultures of originality both at home and at work.
(Blog Post)


The Three-Box Solution
: A Strategy for Leading Innovation
by Vijay Govindarajan
Ultimately our future is not in linear—incremental—improvements. It is in nonlinear—nonconforming, breakthrough—change. But the future is built in the now and that's the problem. What should we be doing now to insure we have a future? Dartmouth professor Vijay Govindarajan writes, "As much as we might pay lip service to the fact that the future will differ dramatically from the past, we often behave as though it will be exactly the same." There is a tension between and what we have to do now to continue on as an entity and what we need to be doing now to create our future along with the things that we are doing that get in our way of doing any of it. How do we create the future while managing the present?
(Blog Post)


Learning Leadership
: The Five Fundamentals of Becoming an Exemplary Leader
by James M. Kouzes and Barry Z. Posner
James M. Kouzes and Barry Z. Posner have written a new book that examines a fundamental question: How do people learn leadership? How do they learn to become leaders? Learning Leadership is a comprehensive guide to unleashing the inner-leader in us all and to building a solid foundation for a lifetime of leadership growth and mastery. The book offers a concrete framework to help individuals of all levels, functions, and backgrounds take charge of their own leadership development and become the best leaders they can be.
(Blog Post)


64 Shots
: Leadership in a Crazy World
by Kevin Roberts
In 64 Shots, Roberts draws on the biggest ideas, toughest experiences and greatest influences of his life to present 16X4 stripped down, straight-forward and instantly-absorbable insights on how to bring order to the chaos of business and life. The punchy insights into winning - hitting readers lightly jab after jab - are an array of one-liners, sound bites, tweets, charts, quotes and historical reference points. They are loaded with Roberts' experience, story, brio, provocation and direction.


The Outward Mindset
: Seeing Beyond Ourselves
by The Arbinger Institute
Unknowingly, too many of us operate from an inward mindset—a narrow-minded focus on self-centered goals and objectives. When faced with personal ineffectiveness or lagging organizational performance, most of us instinctively look for quick-fix behavioral band-aids, not recognizing the underlying mindset at the heart of our most persistent challenges. Through true stories and simple yet profound guidance and tools, The Outward Mindset enables individuals and organizations to make the one change that most dramatically improves performance, sparks collaboration, and accelerates innovation—a shift to an outward mindset.


Pre-Suasion
: A Revolutionary Way to Influence and Persuade
by Robert Cialdini
The author of the legendary bestseller Influence, social psychologist Robert Cialdini shines a light on effective persuasion and reveals that the secret doesn't lie in the message itself, but in the key moment before that message is delivered. What separates effective communicators from truly successful persuaders? Using the same combination of rigorous scientific research and accessibility that made his Influence an iconic bestseller, he explains how to capitalize on the essential window of time before you deliver an important message. This "privileged moment for change" prepares people to be receptive to a message before they experience it. Optimal persuasion is achieved only through optimal pre-suasion. In other words, to change "minds" a pre-suader must also change "states of mind."


Hopping over the Rabbit Hole
: How Entrepreneurs Turn Failure into Success
by Anthony Scaramucci
So much of successful entrepreneurship is learning to lead yourself. It requires some luck, but more than anything it means always pressing forward and a good dose of creativity especially when things don't look good. It's not surprising then that Anthony Scaramucci's book, Hopping Over The Rabbit Hole is not just an important read for would-be entrepreneurs but anyone who looking move through life in a forward direction.
(Blog Post)


Managing in the Gray
: Five Timeless Questions for Resolving Your Toughest Problems at Work
by Joseph L. Badaracco Jr.
Joseph Badaracco offers five questions we should be asking to resolve the inevitable gray areas we will all face from time to time. Gray areas demand our best judgment. The five questions provide a way to get there. They are "a distinctive way of sizing up gray area issues, analyzing them carefully, grappling with their full, human complexity, and then—and only then—making final decisions."
(Blog Post)


Simply Brilliant
: How Great Organizations Do Ordinary Things in Extraordinary Ways
by William C. Taylor
There's no such thing as an average or old-fashioned business, just average or old-fashioned ways to do business. In fact, the opportunity to reach for extraordinary may be most pronounced in settings that have been far too ordinary for far too long. The story of this book, its message for leaders who aim to do something important and build something great, is both simple and subversive: In a time of wrenching disruptions and exhilarating advances, of unrelenting turmoil and unlimited promise, the future is open to everybody. The thrill of breakthrough creativity and breakaway performance . . . can be summoned in all sorts of industries and all walks of life, if leaders can reimagine what's possible in their fields.


The Ideal Team Player
: How to Recognize and Cultivate The Three Essential Virtues
by Patrick M. Lencioni
Beyond the fable, Lencioni presents a practical framework and actionable tools for identifying, hiring, and developing ideal team players. Whether you're a leader trying to create a culture around teamwork, a staffing professional looking to hire real team players, or a team player wanting to improve yourself, this book will prove to be as useful as it is compelling.


Biographies:

Shoe Dog
: A Memoir by the Creator of Nike
by Phil Knight
Nike founder and board chairman Phil Knight shares the inside story of the company's early days as an intrepid start-up and its evolution into one of the world's most iconic, game-changing, and profitable brands. Knight details the many terrifying risks he encountered along the way, the crushing setbacks, the ruthless competitors, the countless doubters and haters and hostile bankers—as well as his many thrilling triumphs and narrow escapes. Above all, he recalls the foundational relationships that formed the heart and soul of Nike.


A Passion for Leadership
: Lessons on Change and Reform from Fifty Years of Public Service
by Robert M Gates
In a time when change is not just inevitable, but must be encouraged and led, Robert Gates' A Passion for Leadership is a must read. Gates offers from experience, strategies, techniques, and principles for implementing change. He includes many examples from the organizations he has served.
(Blog Post)


Preston Tucker and His Battle to Build the Car of Tomorrow
by Steve Lehto
Steve Lehto tackles the story of Tucker's amazing rise and tragic fall, relying on a huge trove of documents that has been used by no other writer to date. It is the first comprehensive, authoritative account of Tucker's magnificent car and his battles with the government. And in this book, Lehto finally answers the questions automobile aficionados have wondered about for decades: Exactly how and why was the production of such an innovative car killed?


The Man Who Knew
: The Life and Times of Alan Greenspan
by Sebastian Mallaby
This is definitive biography of the most important economic statesman of our time. It is the product of over five years of research based on untrammeled access to his subject and his closest professional and personal intimates, brings into vivid focus the mysterious point where the government and the economy meet. To understand Greenspan's story is to see the economic and political landscape of the last 30 years—and the presidency from Reagan to George W. Bush—in a whole new light. As the most influential economic statesman of his age, Greenspan spent a lifetime grappling with a momentous shift: the transformation of finance from the fixed and regulated system of the post-war era to the free-for-all of the past quarter century. The story of Greenspan is also the story of the making of modern finance, for good and for ill.

Related Interest:

Best Leadership Books of 2015

Best Leadership Books of 2014

Best Leadership Books of 2013
Posted by Michael McKinney at 09:32 AM
Permalink | Comments (0) | This post is about Books