Todd Durkin on Leadership & People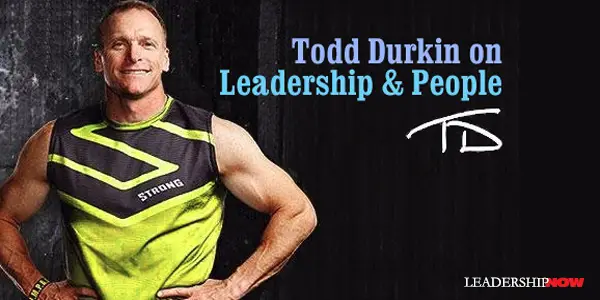 T
ODD DURKIN is one of America's top fitness trainers helping people move beyond their perceived limits from the inside out. The principles he uses in his approach to his work are something all leaders can consider and apply. Durkin brings servant leadership to all that he does. He has been motivating others with his Word of the Week (WOW) since 2011 and has now compiled them in a single book,
The WOW Book
.
His
WOW
chapter titled
Leadership and People
is on–target. He writes:
I love studying great coaches. In any sport. And on all levels.
One of those coaches is Dick Vermeil. Coach Vermeil coached three different NFL teams. The Philadelphia Eagles. The St. Louis Rams. And the Kansas City Chiefs.
In 1999, he led the Rams to a Super Bowl championship. He amassed 126 wins in his 29-year NFL head-coaching career. And he was a three-time NFL Coach of the Year. He has positively impacted thousands of men in his coaching tenure.
On this one particular evening in 2013, I had the opportunity to hear him speak to a few hundred fitness trainers/pros at a Perform Better conference in Providence, Rhode Island.
And he was awesome!
Coach Vermeil revealed his "Seven Common Sense Coaching Points" that make the foundation for any team, business, company, or family. In all seven points, there was ONE commonality:
PEOPLE
.
Without great
PEOPLE
, there are no great businesses, no great TEAMS, no great organizations, no great families, no great companies, and no great brands.
Coach Vermeil talked about how the most important resource of any company is its
PEOPLE
: their personal dignity, pride in what they do, and the trust that they have in management.
At the end of every business/calendar year an important and first question a
LEADER
should ask is:
Do we have better people in our company?
Do we have better people on December 31st (the year's end), than we did on January first (the year's beginning)?
Are we better TODAY than we were at the start of the year?
Think about what Ford says in its MISSION statement: "Our
PEOPLE
are the source of our strength."
Think about what Hilton Hotels says in its VALUES statement: "
PEOPLE
are our most important asset."
YOU are a
LEADER
of your business, your TEAM, your family, your organization . . . regardless of your title!
Your
PEOPLE
need to know what to expect.
Your
PEOPLE
need to be kept informed.
Your
PEOPLE
need to be trained.
Your
PEOPLE
need to be challenged.
Your
PEOPLE
need to be held accountable.
Your
PEOPLE
need to be appreciated.
Your
PEOPLE
need to feel that you care about them.
Your
PEOPLE
need to be recognized and celebrated.
Your
PEOPLE
need to be
LED
.
Your
PEOPLE
need to be able to grow and advance.
Your
PEOPLE
need your feedback and coaching.
Your
PEOPLE
need to be LISTENED to and HEARD.
Your
PEOPLE
need to be TRUSTED, and they must TRUST YOU!
Your
PEOPLE
must be LOVED and LOVE each other.
Durkin has put together 52 chapters in The WOW Book and each ends with an action step. Good value for any leader.
* * *

Like us on
Facebook
for additional leadership and personal development ideas.
* * *