The Five Friends Business Summit

You probably have seen the 5 Friends Insights on Business and Life
videos
.
Now they bring you the
Five Friends Business Summit
on
November 2-3, 2016 in Las Vegas, Nevada
. At this business summit you will receive the same high-level, intensive content usually reserved to the Fortune 500 clients of the Five Friends.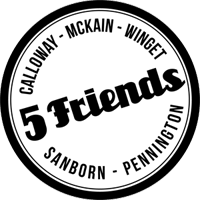 The Five best-selling authors, Speaker Hall of Fame recipients, internationally-acclaimed business consultants and best buddies are:

Joe Calloway
is an expert on branding and competitive positioning and the author of
Becoming A Category of One
,
Be The Best At What Matters Most
and the
Unlocking Maximum Potential
blog.

Scott McKain
is an authority how organizations create distinction and author of
Create Distinction
,
7 Tenets of Taxi Terry
and the
Create Distinction
blog.

Randy Pennington
is a business performance expert and author of
Make Change Work
,
Results Rule!
and the
Results Rule!
blog.

Mark Sanborn
is an expert on leadership, team building, customer service and change. He is the author of
The Fred Factor
,
You Don't Need a Title to be a Leader
,
The Encore Effect
, and hosts a
leadership
blog.

Larry Winget
is the "Pitbull of Personal Development." He is the author of
Shut Up, Stop Whining & Get A Life
,
You're Broke Because You Want To Be
,
Your Kids Are Your Own Fault
and
Larry's Blog
.
Together they will cover:
What are You Willing to Do to Get What You Want? led by Larry Winget
How to Focus Your Resources to Reach Your Results Goals led by Mark Sanborn
How Simplicity and Focus Can Create Customers and Grow Your Business led by Joe Calloway
The Four Steps Required to Create Distinction in Your Marketplace led by Scott McKain
Turn Intention into Action: Making Changes and Building Your Culture led by Randy Pennington
I've seen them all in person and I know any one of them would be worth the price of admission, but all five is a real bargain. Leverage it for your own success.
UPDATE 2019: This event is now called the
Ultimate Business Summit
.
Posted by Michael McKinney at 02:57 PM
Permalink | Comments (0) | This post is about Miscellany