5 Leadership Lessons: How to be More Creative and Enrich Your Life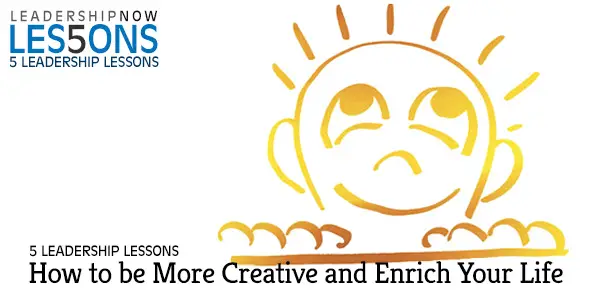 "Curiosity has been the most valuable quality, the most important resource, the central motivation of my life," writes Hollywood producer Brian Grazer in A Curious Mind.
Early in life, Grazer began having what he calls "curiosity conversations." He began tracking down people he was curious about and asking them if he could sit down with them and talk. He particularly looked for people outside of the entertainment business. The goal was to learn something. He says, "I want to understand what makes people tick; I want to see if I can connect a person's attitude and personality with their work, with their challenges and accomplishments."
Grazer is a storyteller by trade and it comes through in the stories he tells of the people he has met through his curiosity conversations. Conversations like these get you out of your head and better connected to reality. They provide great insights into yourself and others. It would be a worthwhile goal for anyone to create similar conversations in their own life. And Grazer persuasively argues that you should. (Give one to a graduate. They'll get it. I put my son on to the project.)
Here are five leadership lessons from A Curious Mind. I particularly like the first point as it provides a starting point—a practical behavior—to develop the thinking and the creativity that drives innovation.

  As indispensable as they are, "creativity" and "innovation" are hard to measure and almost impossible to teach. Unlike creativity and innovation, though, curiosity is by its nature more accessible, more democratic, easier to see, and also easier to do. Curiosity is the tool that sparks creativity. Curiosity is the technique that gets to innovation.

  I've discovered that even when you're in charge, you are often much more effective asking questions than giving orders. The real benefit of asking rather than telling is that it creates the space for a conversation, for a different idea, a different strategy. I've discovered another unexpected characteristic of using questions: they transmit values. In fact, questions can quietly transmit values more powerfully than a direct statement telling people what you want them to stand for, or exhorting them about what you want them to stand for.

  Being able to imagine the perspective of others is also a critical strategic tool for managing reality in a whole range of professions. In fact, the very best doctors, detectives, generals, coaches, and diplomats all share the skill of being able to think about the world from the perspective of their rivals. You can't simply design your own strategy, then execute it and wait to see what happens so you can respond. You have to anticipate what's going to happen—first by disrupting your own point of view.

  Curiosity rewards persistence. Persistence is what carries curiosity to some worthwhile resolution. Likewise, persistence without curiosity may mean you chase a goal that isn't worthy of the effort—or you chase a goal without adjusting as you learn new information. You end up way off course. Persistence is the drive moving you forward. Curiosity provides the navigation.

  Curiosity is great, but if what we learn evaporates, if it goes no further than our own experience, then it doesn't really help us. Curiosity itself is essential to survival. But the power of human development comes from being able to share what we learn, and to accumulate it. And that's what stories are: shared knowledge. Curiosity motivates us to explore and discover. Storytelling allows us to share the knowledge and excitement of what we've figured out. And that storytelling, in turn, inspires curiosity in the people to whom we're talking.
"When curiosity really captures you, it fits the pieces of the world together. You may have to learn about the parts, but when you're done, you have a picture of something you never understood before." Grazer encourages us to keep asking questions until something interesting happens! And it can start with anyone you come into contact with. Everyone has a story to tell—go and be surprised.
* * *


Like us on
Instagram
and
Facebook
for additional leadership and personal development ideas.
* * *

Posted by Michael McKinney at 07:20 PM
Permalink | Comments (0) | This post is about Creativity & Innovation , Learning