When Life Gives You Lemons, Make Lemonade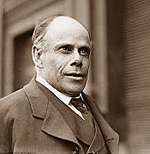 100 years ago this week—January 10, 1915—
Marshall Pinckney Wilder
died. He was an American dwarf actor and humorist. Wilder was born with achondroplasia or dwarfism and also kyphosis or curvature of the spine. He became the first celebrity who attained fame in spite of his disability. He wrote a lot and always signed his letters, "Merrily Yours!"
In 1883 he made a trip to London and performed before the then Prince of Wales who later went on to become King Edward VII. He quickly became a favorite of the English royal family.
Wilder's career eventually branched into vaudeville and in 1904 embarked on a round the world tour. In a memorial to his life,
The King of Jesters
, Elbert Hubbard praised him for his optimism and achievements in the face of his disabilities. He wrote:
He was a walking refutation of that dogmatic statement, Mens sana in corpore sano. His was a sound mind in an unsound body. He proved the eternal paradox of things. He cashed in on his disabilities. He picked up the lemons that Fate had sent him and started a lemonade-stand.
Hubbard coined the concept "when life gives you lemons, make lemonade." It was later popularized by the likes of Dale Carnegie who used it in his book
How to Stop Worrying and Start Living
. Carnegie's wrote:
If You Have a Lemon, Make a Lemonade.



Like us on
Instagram
and
Facebook
for additional leadership and personal development ideas.
Posted by Michael McKinney at 08:28 AM
Permalink | Comments (0) | This post is about Weekend Supplement