Accelerate (XLR8)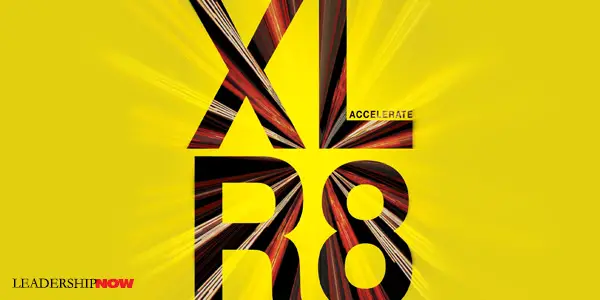 I
N order to reliably maintain an organization nothing beats a well-organized and well-developed hierarchy. But in order to grow, avoid collapse, and take advantage of the changes happening all around us,
we need something more
.
John Kotter provides that extra something we need in Accelerate (XLR8). He writes that management-driven hierarchies are "still absolutely necessary to make organizations work." So what he suggests is not an either/or but a both/and. It is a dual operating system. A second system that is organized as a network that works in cooperation with the existing hierarchy.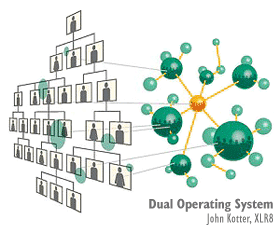 Building leaders and being responsive in a disruptive, ever-changing environment "will no longer be improved by tweaking the usual methodology or adding turbochargers to a single hierarchical system."
The second operating system does not take away from the existing organization but it adds to it, enhances it, feeds it. It is based on a few basic principles:
• Many people driving important change, and from everywhere, not just the usual appointees. It recognizes the possible contribution made by anyone in the organization. "You need more eyes to see, more brains to think, and more legs to act in order to accelerate." It gives more people the latitude to initiate—the foundation for developing leaders.
• A "get-to" mindset, not a "have-to" one. Your existing people will step up but only if they "are given a choice and feel they truly have permission to step forward and act."
• Action that is head and heart-driven, not just head driven. Logic alone is not enough. People will want to help you if you can give them greater meaning and purpose to their efforts.
• Much more leadership, not just management. Management is the guts of the engine, but "the name of the game is leadership, and not from one larger-than-life executive." Both practices are crucial but management alone will "not guarantee success in a turbulent world."
• An inseparable partnership between the hierarchy and the network, not just the enhanced hierarchy. "The two systems, network, and hierarchy, work as one, with a constant flow of information and activity between them—an approach that succeeds in part because the people essentially volunteering to work in the network already have jobs within the hierarchy."
Kotter has found that "just 5 to 10% of the managerial and employee population in a hierarchy is all you will need to make the network function beautifully." He describes eight accelerators for launching and sustaining this two-system model.
* * *


Like us on
Instagram
and
Facebook
for additional leadership and personal development ideas.
* * *


Posted by Michael McKinney at 02:28 PM
Permalink | Comments (0) | This post is about General Business , Management