Designing Moments of Impact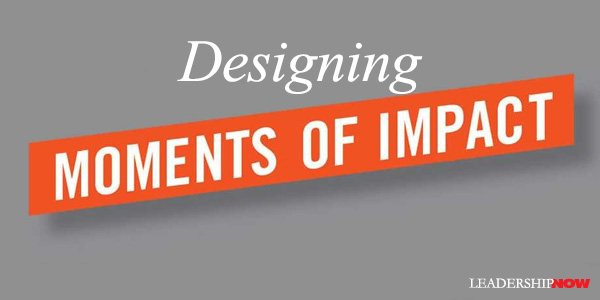 I
N A WORLD of
adaptive challenge
s—messy, open-ended, and ill-defined—your garden variety meeting isn't going to cut it. What you need is a strategic conversation. But these kinds of conversations don't just happen—they need to be designed.
Moments of Impact by Chris Ertel and Lisa Kay Solomon will help you to do just that. A moment of impact is created at the intersection of design, strategy and conversation. Pierre Wack described the challenge as:
It happens when your message reaches the microcosms [mental models] of decision makers, obliges them to question their assumptions about how their business world works, and leads them to change and reorganize their inner models of reality.
Mental models matter. The real challenge is "not to find the right answer to an adaptive challenge but rather to help shape people's perceptions of the problem—and thus of potential solutions."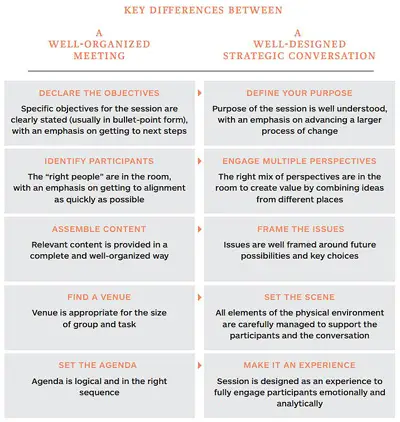 Here are the five core principles for designing strategic conversations:
Define the Purpose: More than a clear set of objectives, you develop a clear sense of the change that this group needs to make together—and how this conversation will advance that process.
Engage Multiple Perspectives: Not just the most appropriate participants, but you dig deeper to understand the views, values, and concerns of each participant and stakeholder group. Find ways to create value from the intersection of diverse perspectives, experiences, and expertise that live inside any organization.
Frame the Issues: All content should be highly relevant to the objectives and clearly communicated and they should also be framed in a way that illuminates different aspects of the adaptive challenge you are wrestling with, including how the various parts relate to the whole.
Set the Scene: Make thoughtful choices about all of the elements of the environment—from the physical space to artifacts to aesthetics.
Make It an Experience: Not only should you follow a logical sequence of agenda items, but also attend to the emotional and psychological experience of the participants. The experience should not only be logical but also intuitive and energizing.
Moments of Impact is really two books in one. Included is a comprehensive 60-page Starter Kit. It's a collection of tools and tips that will help you start designing strategic conversations. Well worth the price of the book alone.
* * *


Like us on
Instagram
and
Facebook
for additional leadership and personal development ideas.
* * *

Posted by Michael McKinney at 10:58 PM
Permalink | Comments (0) | This post is about Communication