How to Accelerate Learning and Change Lives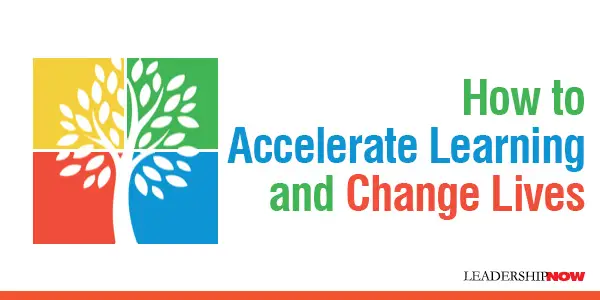 TEACHERS are the builders of the future.
In a book written for teachers, we find a valuable book for all leaders because leaders are teachers. Leaders are educators. In The Best Teacher in You, you will find the thinking and approaches behind highly effective teachers who accelerate learning and change lives.
There are two kinds of change that individuals experience: incremental change and deep change. "We frequently make incremental changes: We make adjustments, we elaborate on a practice, we try harder, and we exert a greater degree of control. In other words, we attempt to solve the problem using the assumptions we currently hold. Deep change is more demanding because it requires the surrender of control….It involves embracing purpose and then moving forward by trial and error while attending to real-time feedback."
It is deep change that we seek to bring about as teachers and leaders. There are two views to making this happen: directive and co-creative. A directive perspective suggests the teacher directs and controls the classroom. "Teaching is a process in which a more expert person imparts knowledge or skill to a less expert person."
A directive perspective is a place to begin but when we build on it, we grow into a co-creative perspective and we move beyond direction, control, discipline, and repetition. "As the teacher and the students commit to a common purpose and form high-quality relationships, they become a system that has emergent possibilities. In a co-creative, collaborative environment, students hold each other accountable, leadership is shared, and new perspectives emerge. The teacher/leader becomes a facilitator.
In a practical way, the authors—Robert Quinn, Katherine Heynoski, Mike Thomas, and Gretchen Spreitzer—have developed a framework consisting of four themes at the center of highly effective teachers' practice. It incorporates both the directive and co-creative perspectives. Each area of effectiveness is associated with particular skills and preferences and all the quadrants have value. After we identify in which of these areas we can find our individual strengths, we can then accelerate our development when we begin to stretch from a position of strength toward an area of growth. If we are very "red" for example, our effectiveness might improve if we became more "yellow" or "green." A very helpful concept.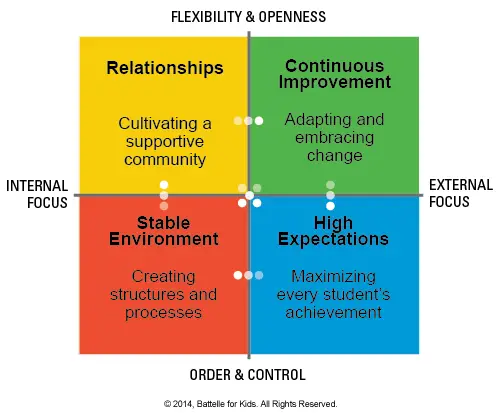 Here are a few ideas presented in the book from highly effective teachers:
Developing the desire to learn: "This process does not begin with her acting on the students. It begins with her acting upon herself. She does the internal work necessary to display her own enjoyment of learning…. [Finally the teacher] is no longer the center of attention, and neither are the students. At the center of attention is the process of learning. The class transforms from a hierarchy to an adaptive learning organization."
Structure: "Structure is not his purpose. Structure serves his purpose." "Structure and control are paths to freedom and learning." "Structure and routine are there so students can work outside the box." "I think the more structured and organized I am, the more creative we can be. Without structure it doesn't work. We need organized chaos. We need some way to manage the mess. Structure and order free me."
Enhancing relationships: Sarah's "most immediate concern is how to negotiate the rift between the content she must teach and the real-life experiences of her students." Students are often "passive observers of their education because the directive perspective is taken too far. She feels that overly directive teaching can minimize the emotional content of the curriculum. Rather than tell her students what is right or wrong, she wants them to engage and 'negotiate' difficult social issues so that they come to their own deep understanding of what is right and wrong."
| | | |
| --- | --- | --- |
| |   | The Best Teacher in You is a book for all leaders—business, church, educational and family. The insights contained in it will help you to grow your effectiveness with others. |
* * *


Like us on
Instagram
and
Facebook
for additional leadership and personal development ideas.
* * *

Posted by Michael McKinney at 09:08 AM
Permalink | Comments (0) | This post is about Education , Learning