Leading Through Uncertainty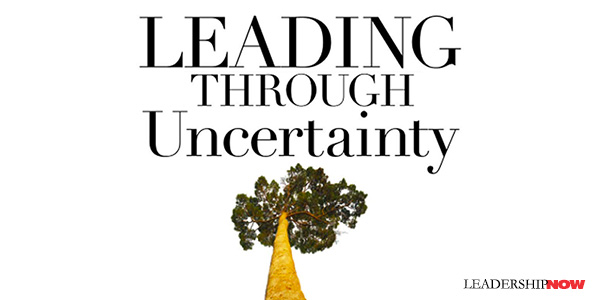 IN times of great uncertainty, we must be leaders. In Leading Through Uncertainty, Ray Davis writes, "Effective leadership is motivating, and it can and should be the energy that propels a company through inevitable waves of change. Poor leadership can lead to disaster and has sunk more than a few companies and governments alike."
Davis divides the book into three parts: leading yourself, leading your organization, and leading the way. He shares the ideas that have allowed Umpqua Bank—the West Coast's largest independent community bank—to emerge from the economic crisis even stronger than before. The problem some will have with the book is that it requires a secure leader. A leader that can set his or her ego aside. And a leader that truly cares about their people, their organization, and the people they affect.
Leading through uncertainty means leading with the truth. People can handle the truth. "The negative energy created by worrying is replaced with positive, productive actions and attitudes." Of course, some leaders are afraid of the truth because it incriminates them and exposes their weaknesses.
Davis says, "I always tell our people that they're entitled to get answers to every question they have. I let them know I'm not going to defend myself when it comes to their questions, but I will explain what's going on. I also tell them that while they're entitled to answers to every question, that doesn't mean they are going to like the answers."
Being truthful means acknowledging the problem. Saying peace when there is no peace—saying everything is fine when it isn't—is only whitewashing that will erode trust and peace.
You must have a firm foundation in the basics, says Davis, and then walk the walk and talk the talk. We're all busy but listening is essential. "I think it is a mistake for people in my position not to make themselves available to their customers, their people, and the community at large." When you don't have all the answers, listening goes a long way.
Leaders don't lead in a vacuum. Secure leaders reach out to others. They give them the ability to provide constructive criticism which is hugely valuable of and by itself but it also serves to motivate and keep people involved in the process. "How else can a company get better if it's not willing to listen to constructive criticism if it's not willing to listen to what it's not doing as well as it could? If you're not willing to listen, you're not going to improve and you're not going to grow."
Great leadership begins with us. "I believe this starts with an introspective and honest inventory—first of yourself and then of your organization. Companies regularly evaluate their strengths, weaknesses, opportunities, and threats to make sure they are focused on the right issues. I wonder, however, how many leaders do the same evaluation on themselves. I recommend this as a good starting point."
* * *


Follow us on
Instagram
and
Twitter
for additional leadership and personal development ideas.
* * *

Posted by Michael McKinney at 11:22 PM
Permalink | Comments (0) | This post is about Change , Leadership