2 Ways Organizations Obstruct Insights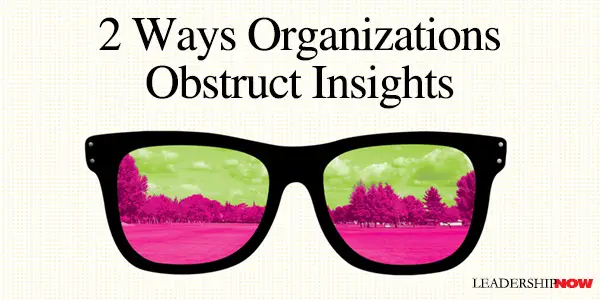 WE all want insights—the new thinking that "shift us to a new story, a new set of beliefs that are more accurate, more comprehensive, and more useful." But we often don't want the disruption they bring because insights have the power to change how we act, think and feel.

In
Seeing What Others Don't
, author Gary Klein says that organizations stifle insights because we
value predictability
and
crave perfection
.
We fall into the predictability trap because we are "so captured by the lure of predictability" that we make it too high a priority. In short, we like the status quo. Managing people is easier when we know what we are doing and we are doing it in a certain way. Insights can change how we relate to each other and that creates the unexpected. "Insight is the opposite of predictable."
Organizations don't like errors and try to eradicate them. Mistake-free performance helps keep things on track and running smoothly. "It's much easier and less frustrating to manage by reducing errors than to try to boost insights. You know how to spot errors. You don't know how to encourage insights other than hanging inspirational posters on the walls." Even though insights can improve on perfection, perfection gets the job done. Why rock the boat?
"In well-ordered situations, with clear goals and standards and stable conditions, the pursuit of perfection makes sense. But not when we face complex and chaotic conditions, with standards that keep evolving."
"The actions we take to reduce errors and uncertainty can get in the way of insights. Therefore, organizations are faced with a balancing act. Too often they become imbalanced and overemphasize … reducing errors and uncertainty." To increase certainty and reduce errors we tend to:
Impose higher standards
Increase controls
Document all sources
Identify assumptions
Increase the number of reviews
Justify conclusions with greater rigor
Rely on checklists and procedures
Increase the precision of schedules
All of these have benefits to organizations and individuals, but the problem arises when they are pursued with so much zeal that they interfere with insights. They can squelch thinking and reflection and lead to robotic behavior.
Insights are dis-organizing, but we need them to stay relevant and grow.
* * *


Like us on
Instagram
and
Facebook
for additional leadership and personal development ideas.
* * *

Posted by Michael McKinney at 03:43 PM
Permalink | Comments (0) | This post is about Change , Thinking