Seeing What Others Don't
: The Remarkable Ways We Gain Insights
Gary Klein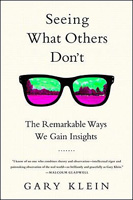 Format:
Paperback, 304pp.
ISBN:
9781610393829
Publisher:
PublicAffairs
Pub. Date:
March 24, 2015
Average Customer Review:


For Bulk Orders Call: 626-441-2024

Description and Reviews
From
The Publisher:
Insights—like Darwin's understanding of the way evolution actually works, and Watson and Crick's breakthrough discoveries about the structure of DNA—can change the world. We also need insights into the everyday things that frustrate and confuse us so that we can more effectively solve problems and get things done. Yet we know very little about when, why, or how insights are formed—or what blocks them. In Seeing What Others Don't, renowned cognitive psychologist Gary Klein unravels the mystery.
Klein is a keen observer of people in their natural settings—scientists, businesspeople, firefighters, police officers, soldiers, family members, friends, himself—and uses a marvelous variety of stories to illuminate his research into what insights are and how they happen. What, for example, enabled Harry Markopolos to put the finger on Bernie Madoff? How did Dr. Michael Gottlieb make the connections between different patients that allowed him to publish the first announcement of the AIDS epidemic? What did Admiral Yamamoto see (and what did the Americans miss) in a 1940 British attack on the Italian fleet that enabled him to develop the strategy of attack at Pearl Harbor? How did a "smokejumper" see that setting another fire would save his life, while those who ignored his insight perished? How did Martin Chalfie come up with a million-dollar idea (and a Nobel Prize) for a natural flashlight that enabled researchers to look inside living organisms to watch biological processes in action?
Klein also dissects impediments to insight, such as when organizations claim to value employee creativity and to encourage breakthroughs but in reality block disruptive ideas and prioritize avoidance of mistakes. Or when information technology systems are "dumb by design" and block potential discoveries.
Both scientifically sophisticated and fun to read,
Seeing What Others Don't
shows that insight is not just a "eureka!" moment but a whole new way of understanding.

About the Author
Gary Klein
, PhD, a senior scientist at MacroCognition LLC, was instrumental in founding the field of naturalistic decision making. Dr. Klein received his PhD in experimental psychology from the University of Pittsburgh in 1969. He spent the first phase of his career in academia and the second phase working for the government as a research psychologist for the U.S. Air Force. The third phase, in private industry, started in 1978 when he founded Klein Associates, a research and development company that had grown to thirty-seven employees by the time he sold it in 2005. He is the author of Sources of Power: How People Make Decisions; The Power of Intuition; Working Minds: A Practitioner's Guide to Cognitive Task Analysis (with Beth Crandall and Robert Hoffman); and Streetlights and Shadows: Searching for the Keys to Adaptive Decision Making. Dr. Klein lives in Yellow Springs, Ohio.