Speaking with Presence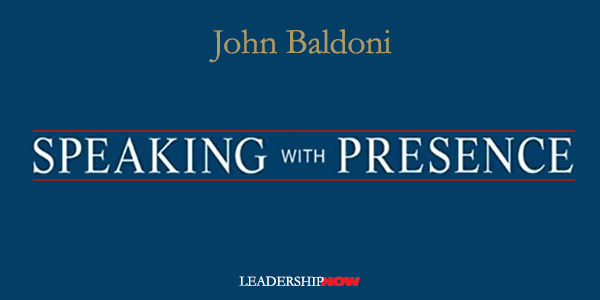 GOOD COMMUNICATION is at the core of good leadership. And speaking from who you are gives you credibility—an earned authority—and opens the door for you to turn listeners into followers.
When you connect with an audience from who you are, you are speaking authentically. You have leadership presence. In The Leader's Guide to Speaking with Presence, John Baldoni has gathered together what he has learned from his own experience and from others he works with.
It is a valuable collection of principles to help us develop our leadership presence when speaking. Like a good speech, it is clear, concise, friendly, and can be put to use immediately.
He begins with the sound of our speech. He asks us to think of our speech as a piece of music delivering variations in melody (rises and lowers according to the words), harmony (facts and stories blended for meaning), and rhythm (tempo, fast slow, matches mood and meaning). Speech delivery is an art that can be mastered if we practice. (Yes, the best practice their speeches.)
Presenting effectively can be a huge challenge for many of us. But learning a few simple techniques about connecting with the audience can go a long way toward establishing a platform for confident delivery, and, more importantly, it can put the audience in a mood to listen to you. Most importantly, it affirms your leadership strengths and gives people a reason to follow your lead.
Baldoni has an eye for the easily overlooked fine points of communication.
He explains how and why to connect with an audience before, during and after a presentation.
He advises on the proper use of stories to inform, to involve and to inspire.
How to show optimism without looking like you don't really know what's going on.
He includes nine key steps for developing a speech.
How to use PowerPoint so it doesn't look like a crutch but rather a well-crafted learning aid.
He explains the importance of clarity over nuance for leaders.
This guidebook is full of practical tips and insights to help you speak authentically—with leadership presence. Each chapter ends with questions to apply to your presentation or delivery—little details that make a big difference. His approach is founded on respect for your audience. Because ultimately it's about them, it's so important that you are aware of how you are coming across. This book will explain the mindset of leadership presence and the mechanics that make it work.
Standing up in front of a live audience requires practice. The more you do it, the better and more comfortable you are likely to become. Keep one key point in mind. The audience wants you to succeed. No one likes to see a speaker "die" onstage. So be cool, be brief, and keep smiling. You will do just fine.
* * *


Like us on
Instagram
and
Facebook
for additional leadership and personal development ideas.
* * *


Posted by Michael McKinney at 09:10 AM
Permalink | Comments (0) | This post is about Communication