Be the Best at What Matters Most
: The Only Strategy You will Ever Need
Joe Calloway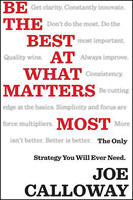 Format:
Hardcover, 210pp.
ISBN:
9781118569870
Publisher:
Wiley
Pub. Date:
March 18, 2013
Average Customer Review:

For Bulk Orders Call: 626-441-2024

Description and Reviews
From
The Publisher:
What if you, your team, or your entire organization had absolute clarity about what was most important, and that's where all of your energy was focused? Imagine the force multiplier of that kind of shared sense of direction, purpose, and priorities.
Be the Best at What Matters Most
reveals the one essential strategy for business leaders, entrepreneurs, and those who aspire to lead. Simplify the way you think about your business. Success isn't about doing everything, it's about doing the most important things.
In a tough market, it's tempting to look for shortcuts. Reality check: There aren't any shortcuts.
Be the Best at What Matters Most
teaches that the way to create results, growth, and profit is to be so good at the basics that you are cutting edge. What an audacious idea—outperform your competition on those things that create real value for your customer. Through real-world examples, engaging activities, and thought-provoking guidance, this book shows you how to:
Constantly improve on just a few things that create the greatest value for the customer
Clarify expectations and build a culture around quality
Replace random acts of "wow" with consistently excellent service
Identify the areas of your business that have become too complicated and simplify them
Discover what motivates your employees and colleagues most
Instill in yourself and your team a shared sense of direction, purpose, and priorities by focusing on the most important things for your company's success.
Be the Best at What Matters Most
helps you clarify and simplify, and when you can do that, you can move mountains.

Reviews
"In Be the Best at What Matters Most, Joe Calloway has unlocked the secret to building a business and brand that stand the test of time. Implementing the lessons from this book doesn't just give you an advantage, it redefines the rules for where you invest your focus, energy, and resources. If building a great, enduring business matters to you, then don't just read this book—devour it."
—Randy G. Pennington, author of Results Rule!
"Be the Best at What Matters Most urges us in a very clear way to get our business to 'simple' and to execute better every single day. Simple with regard to what matters most to our customers. Thank you for the insight, Joe. I assure you that we will be better for it."
—Steve Bilt, CEO, Smile Brands Inc.
"Once again, Joe brings us all down to earth to take the mystery out of how to succeed in business. Having relied on Joe's advice for over fourteen years in four different companies, he continues to show how the 'basics' always win—good economy, bad economy, any demographic, any geography, any industry. These are real ways to help businesses succeed in simple, cost-effective manners that anyone can implement."
—Dan Tarantin, CEO, Chem-Dry/N-Hance
"Vintage Calloway: real-world wisdom. Get everyone in your company to read this book."
—Randy Gage, author of the New York Times bestseller Risky is the New Safe
"It's not about working harder, being more motivated, or finding better people. It's about making 'what you do best' simple and sustainable. Everything we do depletes our most valuable resource, which is time. Read Be the Best at What Matters Most and stop doing the things that keep you from doing what matters most."
—Arnie Malham, CEO, cj Advertising
"Be the Best at What Matters Most, Joe Calloway's latest gift to business leaders, owners, and managers, is a deceptively simple approach to winning in business. Read it and focus. You'll be glad you did. Joe scores again with sound advice for businesses who want to be the best."
—Elizabeth Crook, CEO, Orchard Advisors

About the Author
Joe Calloway
is a leading performance expert who has helped hundreds of companies and entrepreneurs create and sustain success through his unique interactive keynote presentations that challenge people to take action on what matters most in their businesses. Joe has published five books, including Becoming a Category of One and Indispensable.

Table of Contents
| | | |
| --- | --- | --- |
| 1 | The Only Strategy You Will Ever Need | 1 |
| 2 | It's Really Not That Complicated | 13 |
| 3 | So Good at the Basics That You're Cutting Edge | 17 |
| 4 | Deciding What Matters Most | 23 |
| 5 | Different Answers—All of Them Right | 35 |
| 6 | Relevance, Innovation, and Constant Improvement | 49 |
| 7 | Culture, Focus, and More Focus: Memphis Invest | 55 |
| 8 | Working in the Business | 67 |
| 9 | Three Is the Magic Number: Smile Brands | 73 |
| 10 | Winning and Losing Inside the Box | 79 |
| 11 | Random versus Consistent | 87 |
| 12 | Simplicity and the Blue-Tip Flame | 93 |
| 13 | The Trap: Let's Do More | 99 |
| 14 | Clarity, Process, and Profit: bytes of knowledge | 109 |
| 15 | What Matters Most to Your Team | 125 |
| 16 | Culture Drives Results | 131 |
| 17 | How Brands Win | 141 |
| 18 | How the Internet Is Killing Hype | 149 |
| 19 | Leadership: Grunder Landscaping Company | 157 |
| 20 | When Everything Is Pursued, the Important Is Neglected | 167 |
| 21 | The Rules You Can Break | 173 |
| 22 | Focus 3 Ninety | 183 |
| 23 | It's 11:30 | 191 |
| 24 | Ideas That Matter Most | 197 |
| | More Resources | 201 |
| | Index | 205 |

Find Items On Similar Subjects

Indispensable
: How To Become The Company That Your Customers Can't Live Without

Becoming a Category of One
: How Extraordinary Companies Transcend Commodity and Defy Comparison