Former British Prime Minister Margaret Thatcher Dies Today at 87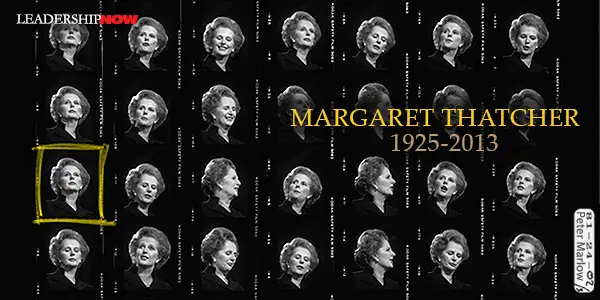 FORMER British Prime Minister Margaret Thatcher, the first and the only woman to become British prime minister, died today at the age of 87 from a stroke. Thatcher served from 1975 to 1990 as leader of the Conservative Party. She was called the "Iron Lady" for her personal and political toughness.
Thatcher was proud of her modest background and was known as a grocer's daughter. She studied chemistry at Oxford and may have even helped invent soft-serve ice cream where she worked as a research chemist after graduation. She was involved in politics from a young age, giving her first political speech at 20.
David Cameron, the Prime Minister, said: "We've lost a great prime minister, a great leader, a great Briton. She didn't just lead our country, she saved our country, and I believe she'll go down as the greatest British peacetime prime minister."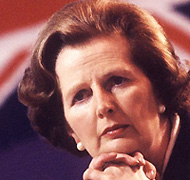 The Republican minority leader in the Senate, Mitch McConnell, called Lady Thatcher a great ally who "never hesitated to remind Americans of their own obligations to the cause of freedom and of the need for political courage and confidence in the face of long odds." The speaker of the House of Representatives, John Boehner, remembered the former prime minister as a "grocer's daughter" who "stared down elites, union bosses, and communists to win three consecutive elections, establish conservative principles in Western Europe, and bring down the Iron Curtain."
On Power
"Being powerful is like being a lady. If you have to tell people you are, you aren't."
On Convictions
"I am not a consensus politician. I'm a conviction politician."
"Consensus: The process of abandoning all beliefs, principles, values, and policies in search of something in which no one believes, but to which no one objects; the process of avoiding the very issues that have to be solved, merely because you cannot get agreement on the way ahead. What great cause would have been fought and won under the banner: 'I stand for consensus?"
"If you just set out to be liked, you would be prepared to compromise on anything at any time and you would achieve nothing."
On Society
"There is no such thing as society. There are individual men and women and there are families.''
"It used to be about trying to do something. Now it's about trying to be someone."
"Do you know that one of the great problems of our age is that we are governed by people who care more about feelings than they do about thoughts and ideas."
On Character
"Watch your thoughts for they become words.
Watch your words for they become actions.
Watch your actions for they become habits.
Watch your habits for they become your character.
And watch your character for it becomes your destiny.
What we think, we become.
My father always said that... and I think I am fine."
On Work Ethic
"Look at a day when you are supremely satisfied at the end. It's not a day when you lounge around doing nothing; it's a day you've had everything to do and you've done it."
"I do not know anyone who has gotten to the top without hard work. That is the recipe. It will not always get you to the top, but it will get you pretty near."
On Perseverance
"You may have to fight a battle more than once to win it."
On Patience
"I am extraordinarily patient, provided I get my own way in the end."
On Leadership
"Don't follow the crowd, let the crowd follow you."

* * *


Like us on
Instagram
and
Facebook
for additional leadership and personal development ideas.
Posted by Michael McKinney at 10:52 PM
Permalink | Comments (0) | This post is about Leaders