5 Key Practices to Earn Trust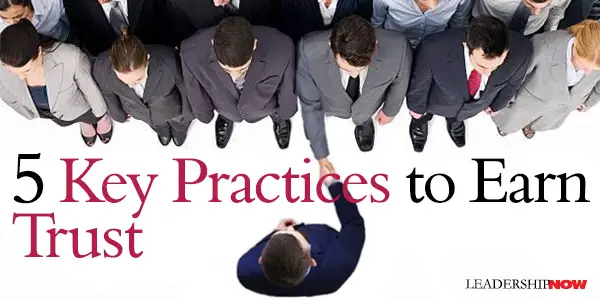 TO TRUST or not to trust is a decision we all make every day. As leaders, we can influence people's decision to trust not only us, but others in the organization and even the organization itself.
Robert Hurley has identified ten specific trust factors in The Decision to Trust. The first three factors are trustor-related: the level of risk tolerance, the trustor's level of psychological adjustment, and the power position of the trustor.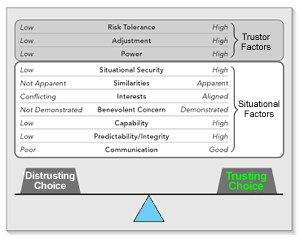 The other seven factors are situational: They are security, similarity, alignment of interests, the level of perceived benevolent concern, capability, predictability and integrity, and communication. The first three are more about the trustee's character as perceived by the trustor – while the other seven are more about the trustor's perception of the situation.
With these ten factors in mind, you can more easily diagnose why trust may be (or likely to be) high or low in your organization. You can also see what you are contributing to the situation—positively or negatively. Here are five key practices to earn trust:
1. Align your interests with those whose trust you want. High trust leaders try to move their enterprise together by encapsulating stakeholders' interests not pitting stakeholders against one another. If you want to build trust, start by clarifying and aligning stakeholder interests and prove that you will promote those interests in a fair manner. This may seem to go without saying, but "one of the reasons that trust has broken down in business and society in general is that there are many situations where the complexity of misaligned interests is not acknowledged, must less dealt with." In these situations, "the best you can do is be clear about interests, decide whose interests will be primary or secondary, and be transparent about what trade-offs you are making and why."
2. Demonstrate Benevolent Concern. We tend to trust people who we believe will care about our welfare—they demonstrate a benevolent character. People, who appear concerned only with themselves, engender distrust. If you want to earn trust, demonstrate to others that you will do the right thing for them even if it puts you at risk. "Demonstrate a respect for others and understand others' needs in a way that helps them find win-win solutions."
3. Develop and demonstrate Capability in the Matter at Hand. We are only trustworthy if we can deliver on our commitments. Good intentions, benevolence, and even ethical conduct, do not warrant trust if the other person is incompetent. High trust leaders make sure that there is a reasonable probability and capability to deliver before they make promises.
4. Create a track record of Predictability and Integrity. High trust leaders tend to practice values based leadership, which creates consistency and coherence in their behavior. Trust comes from always striving to honor ones word.
5. Communicate, communicate, communicate and do it clearly and openly. Because is largely about relationships, communication is critical. Communication is also the vehicle through which the other four elements of trustworthiness are delivered. Aligning interests, demonstrating benevolence, accurately communicating ones capability and practicing what you preach all require effective communication skills. Spirals of distrust often begin with miscommunication, leading to perceived betrayal causing further impoverishment of communication and ending in a state of chronic distrust. Open and transparent communication can induce others to open up and reciprocate with feelings of confident reliance.
Of Related Interest:


  People are Job 1
* * *


Like us on
Instagram
and
Facebook
for additional leadership and personal development ideas.
* * *

Posted by Michael McKinney at 10:10 AM
Permalink | Comments (0) | This post is about Ethics , Management , Trust