The Decision to Trust
: How Leaders Create High-Trust Organizations
Robert F. Hurley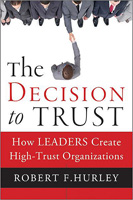 Format:
Hardcover, 256pp.
ISBN:
9781118072646
Publisher:
Jossey-Bass
Pub. Date:
October 25, 2011
Average Customer Review:

For Bulk Orders Call: 626-441-2024

Description and Reviews
From
The Publisher:
A proven model to create high-performing, high-trust organizations
Globally, there has been a decline in trust over the past few decades, and only a third of Americans believe they can trust the government, big business, and large institutions. In
The Decision to Trust
, Robert Hurley explains how this new culture of cynicism and distrust creates many problems, and why it is almost impossible to manage an organization well if its people do not trust one another. High-performing, world-class companies are almost always high-trust environments. Without this elusive, important ingredient, companies cannot attract or retain top talent.
In this book, Hurley reveals a new model to measure and repair trust with colleagues managers and employees.
Outlines a proven Decision to Trust Model (DTM) of ten factors that establish whether or not one party will trust the other
Filled with original examples from Daimler, PriceWaterhouse Coopers, Goldman Sachs, Microsoft, QuikTrip, General Electric, Procter and Gamble, AzKoNobel, Johnson and Johnson, Whole Foods, and Zappos
Reveals how leaders in Asia, Europe, and North America have used the DTM to build high-trust organizations
Globally we face an unprecedented crisis of trust. The numbers are sobering: just one in three Americans believes individuals can trust the government, big business, and large institutions, and in most countries, that figure is even worse. Yet high-performing, world-class companies are almost always high-trust environments. Without this elusive, important ingredient, companies cannot attract or retain top talent, and it is almost impossible to manage an organization well if its people do not trust one another.
In this groundbreaking book, Robert Hurley reveals the Decision to Trust Model (DTM), a proven method for building trust based on Hurley's more than twenty years of research and hands-on work with individuals and teams at the world's top organizations. Step by step, Hurley explains how to create, measure, and repair trust, even in environments where change, uncertainty, and risk exist.
This dynamic framework outlines the ten key factors, both personal and situational, that determine quite simply whether one person will trust another. By diagnosing these points of breakdown in trust, and offering ready solutions on how to repair them, anyone becomes better equipped to improve relationships with colleagues, managers, and employees. Through firsthand stories, Hurley shares how high-trust organizations—such as Daimler, Ernst & Young, PricewaterhouseCoopers, Microsoft, General Electric, Procter & Gamble, Johnson & Johnson, Whole Foods, Zappos, and others—have fostered trust to achieve top-notch productivity, profits, and influence.
Covering trust building in teams, across functions, within organizations, and across national cultures,
The Decision to Trust
shows how smart leaders at all levels can improve trust and the bottom line—changing an organization's entire culture from one of suspicion to one of trust and inclusion.

Reviews
"Robert Hurley's remarkable book, The Decision to Trust, provides brilliant, original insights on how leaders build trust in themselves and in their organizations. In leadership today, nothing is more important than regaining the trust we have lost in recent years. Trust is the essential ingredient to building authentic organizations that sustain peak performance."
—Bill George, professor, Harvard Business School; former chair & CEO, Medtronic; and author, True North
"The Decision to Trust presents a comprehensive and engaging analysis on the elements of trust. Dr. Hurley's framework ranges from heightening personal awareness to extending organizational effectiveness and is extremely relevant for organizations and teams that endeavor to maximize their brand capital across our interconnected world."
—James S. Turley, chairman and CEO, Ernst & Young
"Credibility is the foundation of leadership, and trust is the most important factor in determining whether or not you have it. That makes The Decision to Trust a very timely must-read for every leader. Robert Hurley offers compelling data, real-world examples, and practical advice on how we can more intelligently and compassionately build trust between individuals and across groups and organizations. He also offers hope. While the challenges are great, The Decision to Trust is a book that will better equip you to successfully meet them."
—Jim Kouzes, coauthor, The Leadership Challenge and Credibility, and The Dean's Executive Fellow of Leadership, Leavey School of Business, Santa Clara University
"The Decision to Trust is essential for all leaders looking to build better organizations and to take their companies to the next level. With a robust and comprehensive model for building trust, this book provides the tools you need to make your team extraordinary."
—Keith McFarland, author, The Breakthrough Company and Bounce
"Perhaps at no time in our history has trust become such a valued and scarce commodity. It is an essential element of every leader's moral compass and a necessity for business growth and international leadership. Robert Hurley has given us a perspective that is clear, actionable, and can help restore this bedrock of all productive relationships."
—General Anthony C. Zinni, Marine Corps, retired; chairman, BAE Systems; and author, Leading the Charge
"This book provides an invaluable perspective on what organizational trust really is all about, and how it can be influenced by individuals, teams and leadership systems. Dr. Hurley's research is both comprehensive and compelling. More importantly, it offers the reader practical guidelines and tools."
—Jon R. Katzenbach, coauthor, Leading Outside the Lines, and senior vice president, Booz & Company
"For executives and managers who aspire to create high-trust organizations, Robert Hurley's The Decision to Trust is the book to read. The framework he proposes is eminently sensible and powerful. The Decision to Trust will help leaders reap the myriad benefits of trust within their own organizations."
—Roderick M. Kramer, William R. Kimball Professor of Organizational Behavior, Graduate School of Business, Stanford University
"Nothing much happens within an organization unless there is a foundation of trust between its members. Robert Hurley makes building that fundamental trust very actionable. For a leader who is attempting to build a team, this model is invaluable. We've seen a lot of books on trust, but none come close to examining the issue of trust in working relationships with the rigor that Dr. Hurley has provided."
—Doug Lennick and Fred Kiel, PhD, authors of Moral Intelligence
"This well-researched book provides valuable information for individuals, as well as for leaders of organizations, on how they can increase the trust that others have of them."
—Morton Deutsch, E.L. Thorndike Professor Emeritus of Psychology and Director Emeritus of the International Center for Cooperation and Conflict Resolution (ICCCR), Teachers College, Columbia University
"Dr. Hurley's deep experience in research and in the trenches of organizational practice allows him to offer some powerful ideas on how to manage trust. The Decision to Trust is full of useful insights and should be required reading for leaders and anyone seeking to earn and keep others' trust."
—Chester Cadieux, chairman and CEO, Quiktrip Corporation, retired
"In these times, when working with organizational executives, the issue that constantly tops the list is trust—that is, the lack thereof. Mistrust is pervasive, cutting across all kinds of organizations, and is highly stable, whereas trust is delicate and can be destroyed in a nanosecond. Trust, therefore, can never be taken for granted, as Hurley makes abundantly clear in this excellent book. His invaluable contribution has been to provide a model (a) for how to understand the nature of trust and (b) what the key criteria are in deciding about whether to trust in the first place. Hurley has addressed one of the most important issues in human relationships today."
—W. Warner Burke, PhD, Edward Lee Thorndike Professor of Psychology and Education, Teachers College, Columbia University

About the Author
Robert F. Hurley
is a professor at Fordham University and president of Hurley Associates,a consulting firm that uses behavioral science to enhance individual and organizational effectiveness. He is also a core faculty member in the High Impact Leadership program for executives at Columbia Business School. His work has appeared in the Harvard Business Review and the California Management Review, among other publications.He is based in New York City and Ridgefield, CT.