Leading Views: Gathering Feedback that Drives Growth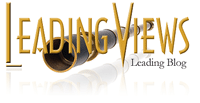 People need feedback to grow. In
Help Them Grow or Watch Them Go
authors Beverly Kaye and Julie Winkle Giulioni share a good method for gathering feedback that drives growth:
Encourage employees to gather feedback from others before sharing your own. It's not about politeness but about power. You've got it and, as a result, your perspective may carry undue weight. When employees come to you with a plate full of feedback from others, they are better able to put your perspective into perspective.
Many people have not had the benefit of learning how to solicit and accept feedback graciously. Since the act of opening one's self up to the opinions of others can be challenging, the agenda for such a discussion should be simple—as straightforward as ABC.
Encourage employees to focus on just three things as they gather feedback from others: abilities, blind spots, and conditions.
Abilities:
• What are my greatest strengths?
• What can you always count on me to do?
Blind Spots:
• What behaviors have you observed that might get in my way?
• How might my strengths work against me?
Conditions:
• In what settings or under what circumstances do I make the greatest contributions?
• Under what conditions have you seen me struggling?
• What factors have you noticed trigger stress or other negative reactions for me?
* * *

Like us on
Facebook
for additional leadership and personal development ideas.
Posted by Michael McKinney at 03:23 PM
Permalink | Comments (0) | This post is about Leading Views