Top Companies Are Guided by These Three Best Principles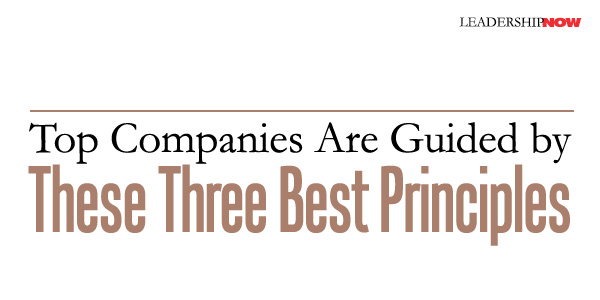 Jim Shaffer, author of The Leadership Solution, believes that top companies are guided by these three best principles:
They value their people. Everyone says it but not everyone lives it. Consultant John Guaspari says, "Our people have to jump in because there isn't time to wait for 'the answer' to come from on high. And even if time weren't an issue, 'on high' doesn't know 'the answer.' Those who actually do the work—our people—do. Here's another thing we all know: Because our people are free moral agents, they will not robotically assent and bring their energy to bear on the situation. Before they do so, the task at hand must be energizing, otherwise, their tanks will eventually run dry."
The CEO is the communication champion. "Open communication—linking people and what they do to the business doesn't happen by accident," says Shaffer. "It starts with leadership. It's driven home with leadership."
Irv Hockaday, former president and CEO of Hallmark adds, "A CEO's primary responsibilities are to provide vision, to motivate employees, and to develop leaders. To do that requires communication—open, frequent, and flowing from both the top down and the bottom up. It's the responsibility of the CEO not just to listen and communicate with employees but to foster an environment in which everyone else does the same."
Communication is managed as a business process. Many business people think of communication as information dissemination to people rather than communication among people, "telling them what they need to know" versus creating clarity and building shared meaning. Shaffer says that while it must be managed as a business process, it spans all of the other business processes. It weaves its way throughout all of them.
Jack Welch says, "It's not a speech… or a videotape. It's not a plant newspaper. Real communication is an attitude, an environment. It's the most interactive of all processes. It requires countless hours of eyeball-to-eyeball back and forth. It is a constant, interactive process aimed at creating consensus."
* * *


Follow us on
Instagram
and
Twitter
for additional leadership and personal development ideas.
* * *

Posted by Michael McKinney at 07:22 AM
Permalink | Comments (0) | This post is about