Leading Views: Four Leadership Imperatives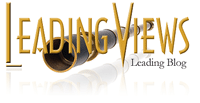 In
The Performance Pipeline
author Stephen Drotter describes a pipeline model that helps leaders at all levels address four leadership imperatives. The Performance Pipeline model focuses attention on each layer's results and on the interconnectedness of the layers.
Leaders at every level need to think more broadly, find new methods, provide greater clarity, and enable sharper focus. These must become the guiding ideas for leaders at all levels. Delivering the right results at the right time in the right way has to be primary, and new tools and practices are required to do it. We must make a fundamental shift in our basic leadership practices if we are to succeed in this uncertain environment.
There are four key imperatives for leaders in our current environment:
The First Imperative:
Every leader spends thirty minutes to one hour or more daily in uninterrupted thought.
The Second Imperative:
Everyone must innovate as a natural and expected part of one's daily routine.
The Third Imperative:
Leaders must provide true role clarity and purpose for every employee.
The Fourth Imperative:
Leaders must create an environment where sufficient focus is achievable.
* * *

Like us on
Facebook
for additional leadership and personal development ideas.
Posted by Michael McKinney at 06:23 AM
Permalink | Comments (0) | This post is about Leading Views