Keep Calm and Carry On

Stuart and Mary Manley are proprietors of one of the most beautiful secondhand bookstores anywhere—
Barter Books
—in the northeast corner of Northumberland, England.
After being forgotten for more than 70 years, they rediscovered, in a box of old books bought at auction, a rare original of the now famous WWII poster
Keep Calm and Carry On
.
Produced more than 70 years ago, this poster was one of three propaganda posters produced by the British government in the spring of 1939 in the build up to World War II. To be used in a time of crisis or invasion, this poster was never officially issued to the public. All of the posters were printed in two colors, using a "special and handsome" typeface, which would be difficult for Germany to counterfeit, along with the crown of King George VI as the only graphic device.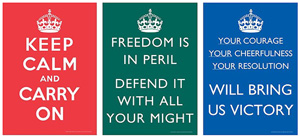 * * *

Like us on
Facebook
for additional leadership and personal development ideas.