What Did He Know and When Did He Know It?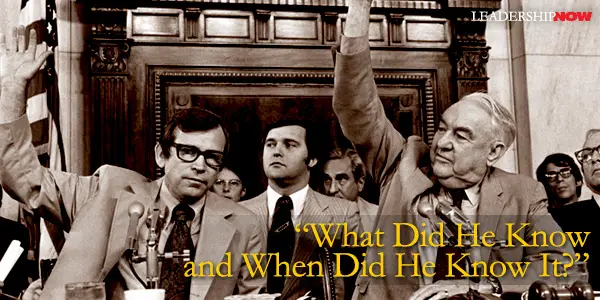 SENATOR Howard Baker's famous question, "What did the president know and when did he know it?" is about moral responsibility.
Leaders have a moral responsibility to the people they serve. Those relationships are a leader's stock in trade and are to be valued above our agendas. For it is through the relationships we develop that we are able to accomplish anything at all.
Our actions set the tone for the whole team. They express our values and our priorities. Above all leadership is something we live.
It's easy to get trapped in the agenda and forget why we are leading in the first place. The agenda is very visible and exciting. Lost in the agenda, we forget who we are and those we serve.
We can be so focused on the goal that we forget the process. We move so fast we can't hear our own values. We have to slow down so that our values catch up with our behavior. If we don't, we make poor judgments, we misplace our loyalties, confuse priorities, and forget the well-being of the people we lead and the example we provide. In short, we ask the wrong questions and so we get the wrong answers.
Before we choose to lead and throughout our leadership journey, we need to ask who we are and why we lead? It is that inescapable core that determines our behavior.
* * *


Like us on
Instagram
and
Facebook
for additional leadership and personal development ideas.
Posted by Michael McKinney at 05:16 PM
Permalink | Comments (0) | This post is about Leadership