Uncertainty Will Freeze You in Place if You Let It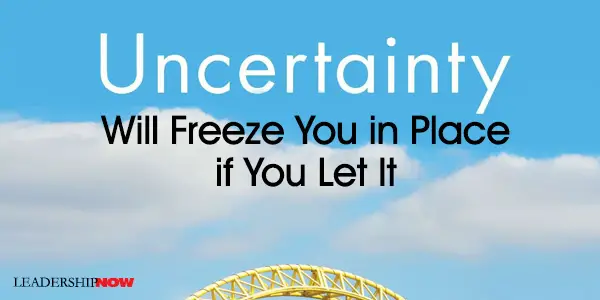 AMBIGUITY is not only certain; it is a necessary state for advancing. Jonathan Fields writes, in Uncertainty: "The more you're able to tolerate ambiguity and lean into the unknown, the more likely you'll be to dance with it long enough to come up with better solutions, ideas, and creations."
The problem is that most of us, to one degree or another, react so strongly to ambiguity or uncertainty, that it becomes a limiting factor in our lives and stops us from acting in the face of it. The issue is not so much failure as it is not wanting to "be judged for taking the less-mainstream path and coming up empty."
But taking the risk in the face of uncertainty is "not about tempting fate, it's about going to that place where magic happens." Living in the question. So how do we push forward when everything seems to be spinning out of control?
Fields suggests we first find our certainty anchors. Certainty anchors are rituals and routines that we build into our lives that help to counter the resistance. On those occasions when you find that it is "Twitter-Time," rituals and routines will help move the process along. "Ritual helps train you to sit down when you most want to stand when you're forced to work on the part of the process that leaves you anywhere from bored to riddled with anxiety."
Get feedback along the way. Build a hive of heroes, mentors, and champions. Consider ways to bring into the process the very people you are creating for.
Train your brain in the art of focused awareness through meditation, mindfulness, visualization, and exercise to stay focused and grounded. Randy Komisar, author of The Monk and the Riddle, told Fields:
It's a process of stripping myself bare of all the pressures, all of the barnacles that accumulate around you every day as you interact in the world—the pressures, the expectations, the ego, the things that ultimately make your vision unclear.
Exercise in the list above wasn't an afterthought. Most of us feel we don't have time to work out. But we really can't afford not to. Fields writes:
Studies now prove that aerobic exercise both increases the size of the prefrontal cortex and facilitates interaction between it and the amygdala. This is vitally important to creators because the prefrontal cortex, as we discussed earlier, is the part of the brain that helps tamp down the amygdala's fear and anxiety signals.

For artists, entrepreneurs, and any other driven creators, exercise is a powerful tool in the quest to help transform the persistent uncertainty, fear, and anxiety that accompany the quest to create from a source of suffering into something less toxic, then potentially even into fuel.
I emphasize this a lot on the Leading Blog, but I think it's something we really have to work at. Randy Nelson, Pixar's former head of education said, "The core skill of innovators is not failure avoidance, it's error recovery." Fields adds, "When that's baked into your creative culture on all levels, people become more empowered to lean into the creative abyss—and magic tends to happen."
| | | |
| --- | --- | --- |
| |   | Creating value involves varying degrees of uncertainty. But that uncertainty can lead to fear and paralysis unless we learn how to use it to our advantage. And it's important that we do because that's where the greatest creations and experiences happen. The poet John Keats put it well. He called it "Negative Capability." He referred to it as the quality that people of achievement possess: the capability of being in uncertainties. Fields shows how to be okay working in that space. |
* * *


Like us on
Instagram
and
Facebook
for additional leadership and personal development ideas.
* * *

Posted by Michael McKinney at 06:39 PM
Permalink | Comments (0) | This post is about Creativity & Innovation , Personal Development , Problem Solving