Finding Gratitude in the Common Things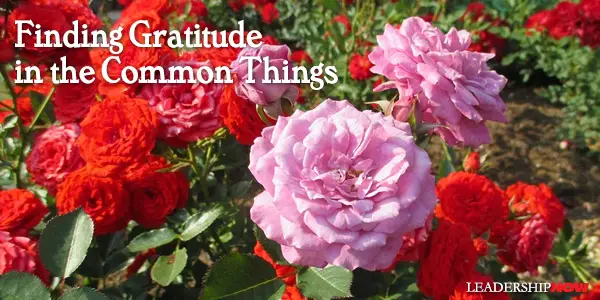 We can only be said to be alive in those moments when our hearts are conscious of our treasures.


—Thornton Wilder
Sometimes we have big and uncommon things to be thankful for, but mostly what we have to be thankful for is daily, common and mundane. It's these daily blessings that we take for granted. It's these that we need to be most thankful for and learn to find ways to express our gratitude for—daily.
Gratefulness is a state of mind. Gratitude puts us more in the moment rather than being shackled to the past. Without an attitude of gratitude, we tend to focus on the wrong things. It makes us do things we shouldn't do.
Gratitude assigns meaning to that which we find common, but is, in fact, a gift. At the same time, it gives us meaning.
Often it is not until we are deprived of something that we begin to appreciate that which we take for granted. It is easy to be oblivious to that which we have until we lose it or face the prospect of losing it.
Do we have to suffer a loss to appreciate that which we have?
* * *


Like us on
Instagram
and
Facebook
for additional leadership and personal development ideas.

Posted by Michael McKinney at 12:01 AM
Permalink | Comments (0) | This post is about Personal Development