Hypocrisy Isn't Going to Get You There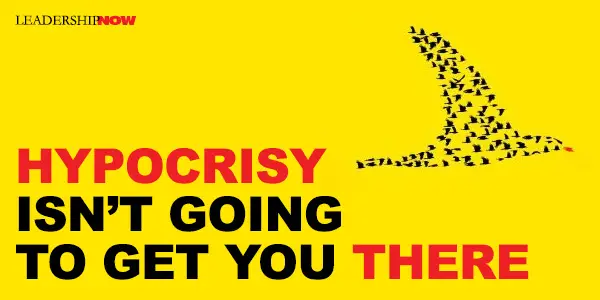 IF you've ever asked yourself, "What's the matter with them? Why don't they get it?" or said, "I feel like I am alone here," maybe they are listening more to your actions than your words.
Culture explains how things really work. Culture reflects practical values—values that will get you through the day regardless of what you say you believe. When it comes to preaching values, too many leaders are just talking heads. Preach change, demonstrate status quo.
Changing culture in an organization is often difficult because leaders make it so. A culture that does not resemble your stated values reflects a lack of ownership and accountability to those values. A value that is meant for "them" but not lived-out in the behavior of and choices made by the leadership, will never become part of the organizational culture. Culture is formed by the choices we make, not the lecture we give.
In Too Many Bosses, Too Few Leaders, Rajeev Peshawaria suggests three steps to cultural change:
DEFINE > SOCIALIZE > REINFORCE
• Define the desired culture. Articulate a set of behavior guidelines for everyone to follow.
• Socialize the behavior guidelines by example, training and ongoing communication.
• Reinforce the behavior guidelines by answering the what's-in-it-for-me question.
In this discussion he makes three statements that are worth reflecting on:
Leaders should use every opportunity to exhibit guidelines or values in their own behavior.
Are you modeling the behavior you want to see in others?
Senior leaders of the company routinely showed up at these training sessions to show employees how important the values and brand were.
Are you excusing yourself from what you expect others to be doing?
In sharp contrast, another client told me to design the session in such a way that it did not rely too heavily on the executive team's presence. He argued that the senior team was already under a lot of pressure, and that this would be a huge time commitment for them. I could not believe my ears. After all, as leaders, what do you spend time on if not aligning your organization's culture with your vision and strategy?
Do you live by a different set of rules?
Sometimes this is difficult to see in yourself, so asking a trusted friend if there is a disconnect between your words and your behavior is helpful. As a leader, it is too easy to think of yourself as the exception. "I'm busy." "They don't have to deal with what I am dealing with." "This is for them, I don't need it.
When a leader's behavior conforms to their talk, there is a connective quality formed that is worthy of trust and attention. If we live our values we can create radical change.
| | | |
| --- | --- | --- |
| |   | Often the greatest barrier to the implementation of our ideas is the example we set. We get in our own way when we don't clearly demonstrate the values and behavior we wish to see in our groups or organizations. We must lead by example. |
* * *


Like us on
Instagram
and
Facebook
for additional leadership and personal development ideas.
* * *

Posted by Michael McKinney at 07:07 AM
Permalink | Comments (0) | This post is about Culture , Management , Motivation , Teamwork