Too Many Bosses, Too Few Leaders
: The Three Essential Principles You Need to Become an Extraordinary Leader
Rajeev Peshawaria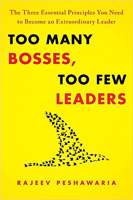 Format:
Hardcover, 256pp.
ISBN:
9781439197745
Publisher:
Free Press
Pub. Date:
May 10, 2011
Average Customer Review:

For Bulk Orders Call: 626-441-2024

Description and Reviews
From
The Publisher:
How did Alan Mulally––an outsider to the auto industry—lead such a spectacular turnaround at Ford? How did Morgan Stanley CEO John Mack keep his company from imploding even as Lehman Brothers collapsed? What is it that enables such extraordinary leaders to galvanize their talents and energy, as well as the talents and energy of those who work for them, to achieve superior performance no matter what challenges they face?
Rajeev Peshawaria has spent more than twenty years working alongside top executives at Fortune 500 companies and training them in leadership, including as Global Director of Leadership Development programs at American Express, as Chief Learning Officer at both Morgan Stanley and Coca-Cola, and as one of the founding members of the renowned Goldman Sachs leadership development program known as Pine Street. He knows precisely what makes the difference between those who are simply bosses and those who are superior leaders, and between those who continue to rise to the top levels and those who get stuck along the way.
In this lively and remarkably empowering book, Peshawaria offers readers the opportunity to experience the highest level of leadership training available in the world. Introducing the three core principles he has observed are the foundation of the best leadership––that great leaders clearly define their purpose and values; that nobody can motivate another person because everyone comes premotivated; and that a leader's job is not to directly produce results but to create the conditions that will harness the energy of others—he details his unique and proven program for achieving leadership excellence.
Sharing a wealth of illuminating stories, from those of Mulally's achievement at Ford and Mack's at Morgan Stanley, to how Harvey Golub and Ken Chenault successfully restored American Express to long-term sustainable growth, how Neville Isdell turned the Coca-Cola Company around, and the continuing prowess of Jeff Bezos in growing Amazon.com, he first reveals how extraordinary leaders marshal and sustain the level of energy in themselves that is required and how they enlist a core group of proficient co-leaders. He then outlines how to harness the energy and talents of those at all levels of an organization, igniting their motivation by following his RED guidelines for addressing their core needs concerning their Role, their work Environment, and their career Development. Finally, he introduces his unique Brains, Bones, and Nerves framework for: developing a clear strategy for competitive advantage (the Brains); crafting an optimal organizational structure (the Bones); and fostering a highly cooperative and motivated company culture (the Nerves).
Filled with specific tips about the vital questions to ask and simple but powerful steps to follow,
Too Many Bosses, Too Few Leaders
is a manager's essential tool kit for long-term superior performance.

Reviews
"It's easy to dispense advice about how leaders should direct and motivate their people. It's much harder to have actually done these things yourself, and to be able to describe, in highly useful terms, how the best leaders harness their own energy, and energize and direct the talents of others to achieve superior performance. Rajeev Peshawaria's simple but powerful methods, derived from many years of training and developing leadership skills in premier companies on three continents, provide an essential roadmap for managers at every organizational level."
—Steve Kerr, the former Chief Learning Officer and a Managing Director of Goldman Sachs and author of Reward Systems: Does Yours Measure Up?
"Rajeev Peshawaria's Too Many Bosses, Too Few Leaders beautifully presents the underlying dynamics of what it takes to be a great leader. Leadership is a special talent that goes far beyond just being a boss, and he shows that deciding to develop that talent is a critical choice. By illuminating key features of human nature, and by respecting the organization as a living system, Peshawaria provides a clear path to becoming an extraordinary leader who gets impressive results, who brings out the best in others, and who lives a life full of joy, energy, and meaning . Very inspiring reading!"
—George Kohlrieser, Professor of Leadership and Organizational Behavior, IMD and author of Hostage at the Table: How Leaders Can Overcome Conflict, Influence Others, and Raise Performance
"The fascinating aspect of Too Many Bosses, Too Few Leaders is that it is much less a 'how to' and much more a 'why' exploration of leadership, going deeply into the subject in a manner I have not seen before. Instead of preaching on the topic, as most of the other books do, he takes readers along a personal journey on a quest for leadership, uncovering the key elements of character, fortitude, processes and practices that will enable them to discover the leadership in themselves. This is a must read book because it is as much about kindling the intellect as it is about igniting the leadership passion in everyone."
—Raghu Krishnamoorthy, Vice President, Human Resources, GE Aviation
"Rajeev Peshawaria brings together a myriad of case studies and examples—from Toyota-GM to Mahatma Gandhi—to address an issue that will separate tomorrow's winning organizations from the losers."
—Navin Agarwal, Executive Chairman, Vedanta Resources Plc.
"Very rarely is a leadership expert also a business leader himself, a teacher and consultant to the most admired corporations in the world, a brilliant thinker, and a great author. Mr. Peshawaria is one of those rare individuals. Anyone truly interested in the art, science, and psychology of leadership will be enriched by this very insightful and pragmatic book."
—Dr. Anthony F. Smith, Cofounder and Managing Director of Leadership Research Institute and best-selling author of The Taboos of Leadership and ESPN: The Company
"RajeevPeshwaria provides simple but powerful insights about the difference between leading and managing. His RED framework is a terrific approach to understandingthe principles and actions that make the difference between leading and simply managing."
—A. Salman Amin, Executive Vice President Sales and Marketing, PepsiCo
"Ina sea of leadership guides, this new offering rises to the top with its gripping insights that will inspire reflection and action in leaders and managers at all levels…Peshawaria's book ought to become required reading for all business people--from students to executives."
—Publishers Weekly (starred review)
"Peshawaria defines leadership with hands-on directives for managers and entrepreneurs...Accompaniedby charts and bulleted points, the author's clear-cut prose moves readers through the organizational structure...of a successful business model...Peshawaria's examples and solid advice will help leaders lay the foundation for company growth."
—Kirkus

About the Author
Rajeev Peshawaria
is currently CEO of the ICLIF Leadership & Governance Centre based in Kuala Lumpur, Malaysia, which provides executive education, advisory services and executive coaching to professionals and board directors in Asia, Middle East and Africa. Prior to joining ICLIF in April 2010, Rajeev spent twenty-two years at blue chip corporations: American Express, HSBC, Goldman Sachs, Coca-Cola, and Morgan Stanley. In his most recent corporate position as the Chief Learning Officer and Head of Talent Management at Morgan Stanley, he founded Morgan Stanley University, a globally integrated learning and consulting hub within the firm. Before joining Morgan Stanley, he was the Chief Learning Officer of The Coca-Cola Company, where he created and headed Coca-Cola University. At both companies, Rajeev worked closely with senior management teams to grow and/or streamline their businesses.

Table of Contents
| | | |
| --- | --- | --- |
| | | |
| | Introduction | ix |
| | Acknowledgements | xxi |
| | | |
| | Part One: Self- and Team Leadership | |
| 1 | ENERGIZE the Self: Self-Leadership | 3 |
| 2 | ENLIST Co-Leaders: Team Leadership | 41 |
| | | |
| | Part Two: Enterprise Leadership | |
| 3 | GALVANIZE Large Numbers: Enterprise Leadership | 79 |
| 4 | B-B-N: Wiring the "Brains" | 91 |
| 5 | B-B-N: Building Strong "Bones" | 113 |
| 6 | B-B-N: Developing Cultural "Nerves" | 135 |
| 7 | Common Threads, Individual Paths | 159 |
| 8 | Nurturing the Most Valuable Intangible Asset | 189 |
| | | |
| | At a Glance: Summary of the Tool Kit | 199 |
| | Reference | 209 |
| | Index | 217 |

Find Items On Similar Subjects

Leadership is Dead
: How Influence is Reviving It