Leading Views: Five Essential Leadership Questions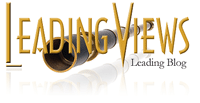 In
The Mirror Test
author Jeffrey Hayzlett reminds us that "having the mindset of a leader is more important than learning tactics of leadership that fill thousands of books and seminars nationwide. After all, tactics can change and vary depending on where your business is and they type of business it is. The need for strong leadership does not. Success and growth depend on it. Your employees depend on it. The mood of your company depends on it."
So the first question you need to ask, says Hayzlett, is not "How do you lead?" but "Can you lead?" If yes, then ask the following:
Am I acting like myself or trying to be someone else?
Can I read the signs in my business and be decisive and do the things every leader must do to succeed?
Am I the right fit for what I am doing in my business? Am I doing what I do best?
Am I dealing honestly with my employees and making them part of my business?
Can I eliminate the external (employee) and internal (ego) obstacles that hold my business and me back?
Posted by Michael McKinney at 06:30 PM
Permalink | Comments (0) | This post is about Leading Views