The Five Accountabilities You Need to Implement Now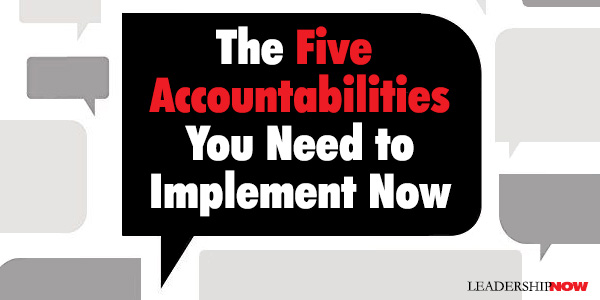 No More Excuses
by Sam Silverstein is about expanding your accountability zone. To do that it means "reaching the point in your life where you can say, 'No More Excuses! I'm not going to make excuses, and I'm not going to buy excuses.'" Excuses only legitimize the past, ignore the present, and eliminate the future.
Silverstein's book is built around The Five Accountabilities he has developed to help you—in a practical way—to move beyond the excuse; to make accountability a way of life for you personally and part of your organization's culture. The five accountabilities are:
Doing the Right Things. Begin by identifying your strategic intent. What are you trying to accomplish and by when? We are accountable for understanding and identifying our strategic intent—and the activities that support it.
Mt. Everest climber Ronnie Muhl, told Sam: "You get into the habit of asking yourself, 'If my life depended on the next action I took, how differently would I perform that action?' —because doing the wrong thing can have massive consequences."
Managing Your Space. We are accountable to create the new space we need to grow and innovate in our own lives, which sometimes means taking space from something else that we're doing. "Force of habit prevents us from giving ourselves the physical, mental, financial, or emotional space necessary to shake things up a little bit and put something new in our lives—something that could provide growth and improvement."
David Silverstein, CEO of the Breakthrough Management Group International, told Sam, "You have to be willing to cannibalize your own business in order to grow."
Managing the Process. We are accountable for creatively making progress toward whatever it is we are trying to make happen even when we hit an obstacle. It means not throwing up our hands and saying, "If it's not meant to be, it's not meant to be."
Kenneth Evans, Dean of Price College of Business at the University of Oklahoma told Sam, "The real problem with the way that some people look at accountability is that oftentimes it's layered into a notion of a rigid set of expectations and performance parameters, and frankly, you can get into very deep trouble if that's your mantra. How you react to changing events is important as well."
Establishing the Right Expectations. We are accountable for establishing the right expectations, that reflect our values, that are properly benchmarked, and are a bit of a stretch.
Clothier Elim Chew, spoke to Sam about the leading from where you are at his company 77th Street, "The people who accept responsibility for, say, 10 things that are part of their job description and then accept personal accountability for five more things all on their own are the ones who are more likely to get the bigger bonuses and bigger raises in this company. They're the ones who may end up running a business of their own someday."
Contributing to Your Relationships. The success or failure of our relationships depends entirely on the contributions we make. We are accountable for giving to our relationships—without keeping track. "In fact, the quickest way to kill a relationship is to start keeping track of all the reasons it's not your turn to give to it and support it." Sam adds, "We should constantly be looking for ways to invest in the relationship and enhance the value of the relationship over time."
Sam says, "Building relationships is about choices, and the choices should always be based on your values. To get a fix on your values, ask yourself: How can I best serve this relationship in the short term and the long term?"
Brian Martin, CEO and founder of Brand Connections, talked to Sam about managing emotions. He said, "I have asked every single person I've hired two questions: 'First, what is most important for you to feel professionally, every day? And second, what's most important for you to avoid feeling? What would you really rather not go through, not have to replay with your spouse at the end of the day, when that person asks how your day went?' I keep the answers on file, and I look at those answers every week when I do my own planning."
More information can be found at SamSilverstein.com to help you implement the Five Accountabilities. "If you want to build an organization that achieves its goals and beats the competition, it's time for No More Excuses."
* * *


Like us on
Instagram
and
Facebook
for additional leadership and personal development ideas.
* * *

Posted by Michael McKinney at 06:56 PM
Permalink | Comments (0) | TrackBacks (1) | This post is about Change , Ethics , Personal Development