7 Signs You Might Be In Denial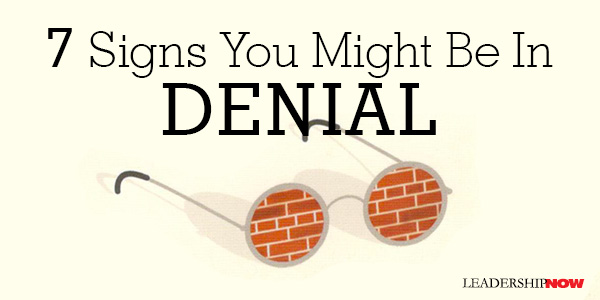 Nothing is easier than self-deception. For what each man wishes, that he also believes to be true.


—Demosthenes

B
USINESS historian Richard S. Tedlow, shares in
Denial
examples of CEOs who have made mistakes that could and should have been avoided and those that did it right and why. The lessons Tedlow uncovers in these examples provide us with insight into our own flirtation with denial and how we might battle it.
You might be in denial if you think you have all of the information you need. "Power deranges. Powerful people are routinely surrounded by yes-men, but that is not the real problem because they are relatively easy to spot. The real problem is the courtier who is sufficiently clever not to be detected." Powerful people, Tedlow continues, "don't really know as much as they may think about their own organization because people stop telling them the truth."
You might be in denial if you don't make a point to listen. If people think they won't be heard they will not speak up. You need to create an open environment where it is safe to say what's on your mind. Tedlow offers a quick test of your environment: "are the private conversations that follow meetings usually more frank and honest then the public discussions in the meetings themselves?" If so, it's because everybody is talking about what didn't (couldn't) get said.
You might be in denial if you think short-term. You are sticking your head in the sand. Trying to put a Band-Aid on a much larger problem only delays your response to the inevitable. Deal with it now and completely. "Denial is all about you—and how you view the world. Your view does not change the world, the realities of which you will inevitably have to face sooner or later."
You might be in denial if you talk trash about competitors and individuals. Anna Freud called it "defense by means of ridicule and scorn." Tedlow writes, "If you find yourself trash-talking your competition take a moment to think about what you're doing. What am I using this derision to hide—perhaps from myself?"
You might be in denial if you relabel actions rather than changing them. When you don't like reality, you just change its name. The result as George Orwell said is to "perform the important service of partially concealing your meaning even from yourself." "Troubled assets aren't 'troubled assets.' They are worthless pieces of junk."
You might be in denial if you don't tell the truth. "Denial occurs when we push aside hard truths in favor of more palatable or convenient narratives." This works two ways: the lies we tell and the lies others tell us. Don't participate in either.
You might be in denial if you don't think denial is a problem you face. That of itself is denial. Tedlow cautions, "It can never be completely defeated because we can't fully know or face the truth about ourselves. It is impossible to be both subject and object." You need to develop a self-awareness about it. "Denial-avoidance is a life's work, not an agenda item….If one could simply resolve to wake up tomorrow and unflinchingly confront reality, denial would hardly be the problem that it is….You can't avoid blind spots when you drive. However, good drivers know those blind spots exist and take them into account when they get behind the wheel. So it should be with denial."
Some people deny less than others. How can you be one of them?
* * *


Like us on
Instagram
and
Facebook
for additional leadership and personal development ideas.
* * *

Posted by Michael McKinney at 11:16 PM
Permalink | Comments (0) | This post is about General Business , Problem Solving , Thinking