No More Excuses
: The Five Accountabilities for Personal and Organizational Growth
Sam Silverstein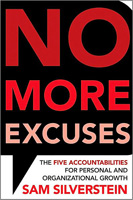 Format:
Hardcover, 182pp.
ISBN:
9780470531921
Publisher:
Wiley
Pub. Date:
January 7, 2009
Average Customer Review:

For Bulk Orders Call: 626-441-2024

Description and Reviews
From
The Publisher:
Accountability is not a consequence ... it's your competitive advantage!
Early in the Minnesota Twins 2009 exhibition season, Twins manager Ron Gardenhire discovered a note on his desk from Justin Morneau, his star first baseman. It read: "Gardy: I forgot to run sprints after the workouts yesterday; I am fining myself." Next to the note was a hundred-dollar bill.
Entrepreneur, author, and speaker Sam Silverstein asks: Is Justin Morneau accountable because he's a superstar or is he a superstar because he's accountable?
In
No More Excuses
, Silverstein identifies the Five Accountabilities shared by all truly successful people and organizations.
Shows why accountability gives businesses and individuals the competitive edge
How to instill accountability throughout the enterprise
How the Five Accountabilities can support both values and strategic intent.
Includes interviews with 50 carefully chosen Accountability Masters from six continents and all walks of life—including academics, Fortune 500 CEOs, and Hall of Fame athletes.
No More Excuses
also features on-line resources for implementing and reinforcing each of the Five Accountabilities on a daily basis. Read it—and expand your own Accountability Zone!
Accountability is not a consequence.Accountability is your competitive advantage.
Many professionals avoid accepting personal accountability for failures while readily accepting credit for successes. But those who achieve truly great things in life know that true accountability makes all the difference between success and failure—on both a personal and organizational level.
Based on interviews with over fifty successful masters of the art of accountability—including academics, Fortune 500 CEOs, and Hall of Fame athletes—
No More Excuses
identifies the five accountabilities that all truly successful people and organizations share. These principles and traits are the common currency of successful individuals and businesses across virtually every industry and culture. When organizations embrace accountability at all levels, performances improve and competitive advantages emerge.
When you willingly accept and embrace the five accountabilities, you encourage accountability in others and empower your teams to achieve at the highest level. The result is an organization focused on its fundamental values and committed, at the individual level, to achieving critical strategic goals.
Whether you're a business owner, a top executive, or a team leader, accountability starts with you and trickles down to everyone else. If you want to build an organization that achieves its goals and beats the competition, it's time for
No More Excuses
.

Reviews
"As a former CEO of Southwest Airlines, I learned that a key leadership principle for success in a challenging market was to make accountability a competitive advantage. In this exciting read,
No More Excuses
, Sam will show you step-by-step just how to do that. The five accountabilities that Sam shares will be key in making your organization successful."
—Howard Putnam, Former CEO, Southwest Airlines, and author of The Winds of Turbulence
"At ING DIRECT, we believe that understanding and driving a culture of accountability is a major competitive advantage for our business. Practicing the fundamentals of accountability as set out in this book can help you differentiate your business, drive engagement and retention among your employees, improve interactions with your customers, and drive business results. Sam Silverstein's unique approach to this strategically vital issue is required reading."
—Peter Aceto, President & CEO, ING DIRECT, Canada
"When I look at the Five Accountabilities, I think these are probably the key drivers that allow people to make and fulfill commitments."
—George Tamke, Chairman of The Hertz Corporation; Culligan Ltd.; and ServiceMaster
"In the age of finger-pointing and corporate bailouts, accountability seems to be a long forgotten myth. As someone who sees, first-hand, the impact of personal accountability on our nation's healthcare costs, I view No More Excuses as an important guide for individuals and corporations that want to harness the power of accountability to achieve their goals."
—Stan Nowak, CEO & cofounder, Silverlink Communications, Inc.
"You cannot run a company or an organization effectively, no matter how big or small it is, without a strong culture of accountability. At PEP, employees at all levels know exactly what outputs are expected of them, they also know how and how often these outputs are measured.
No More Excuses
shows you exactly how to build the same kind of culture."
—George Steyn Managing Director, PEP, South Africa

About the Author
Sam Silverstein
is an internationally acclaimed consultant, coach, and business advisor. A past president of The National Speakers Association, his client list includes such organizations as AFLAC, Lucent Technologies, the National Association of Home Builders, Prudential Insurance Company, and the United States Postal Service.

Table of Contents
Introduction: Your Competitive Advantage
Learn the Five Accountabilities that gives people and organizations the edge.
How to Use This Book
Get an overview of the NO MORE EXCUSES program – and meet the Accountability Masters who contributed to this book.
PART ONE
1
The $10,000 Question
Learn who you are really accountable to
2
Beyond the Excuse
Find out how expensive excuses really are.
PART TWO
3
The First Accountability: Doing the Right Things
You are accountable for understanding and identifying your strategic intent – and the activities that support it.
4
The Second Accountability: Managing Your Space
You are accountable for creating space for new ideas, initiatives, and projects.
5
The Third Accountability: Managing The Process
You are accountable for creatively pursuing your strategic intent, even when you hit an obstacle.
6
The Fourth Accountability: Establishing the Right Expectations
You are accountable for setting expectations that reflect your values, are properly benchmarked, and are a bit of a stretch.
7
The Fifth Accountability: Contributing to Your Relationships
You are accountable for giving to the relationships that matter most to you – and for giving to the larger world.
Conclusion: Creating a Culture of Accountability
Join the global alliance of Highly Accountable People!
APPENDIX: More from the Accountability Masters

Find Items On Similar Subjects

No Excuses!
The Power of Self-Discipline

QBQ!
The Question Behind the Question