The Little BIG Things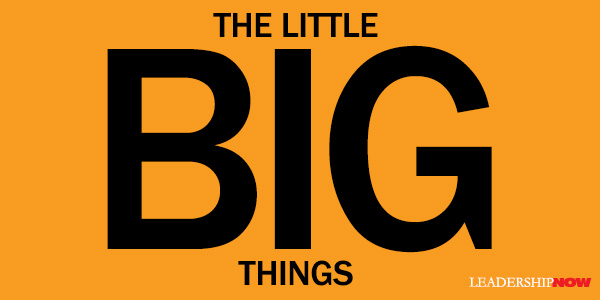 IN many ways leadership is about taking an oath of excellence. To a leader, excellence matters. Excellence requires "re-imagining" (to borrow a Peters' term) your world done excellent. Leaders see things differently and this difference can be taught. Teaching excellence—one behavior at a time—is what The Little Big Things by Tom Peters, is all about.
Some of what you will read in TLBT has been presented on the Tom Peters blog over the years. But for this book, the posts have been edited, revised, organized and conveniently packaged. It's a compilation of 163 behaviors you can put into practice to achieve excellence in any endeavor. As such, it is not meant to be read straight through. Jump in anywhere it looks interesting. The process here is: read—consider—implement—repeat.
Tom, as we've said here before, is good at boiling things down to basics. You'll find opportunities to pursue excellence in basic insights that produce big results.
Courtesies of a small and trivial character are the ones which strike deepest in the grateful and appreciating heart.


—Henry Clay, American statesman (1777-1852)
Sometimes the little-big-things can seem too "soft" or beneath the demands of business. Tom explains: "Ideas like conscientiously showing appreciation are matchless signs of humanity—and the practice thereof, in my opinion, doubtless makes you a better person, a person behaving decently in a hurried and harried world….Acts of appreciation, to stick with my theme of the moment, are masterful, even peerless, ways of enthusing staff and partner and client alike, and, hence, greasing the way to rapid implementation of damn near anything. That is, 'Soft is hard' is wholly pragmatic—and more often than not, effectively implemented, makes the bottom line blossom!"
Excellence has to be challenged into existence. The Little Big Things does just that.
* * *


Like us on
Instagram
and
Facebook
for additional leadership and personal development ideas.
* * *

Posted by Michael McKinney at 08:00 AM
Permalink | Comments (0) | This post is about General Business , Leadership Development , Management , Personal Development