How Fascinating is Your Message?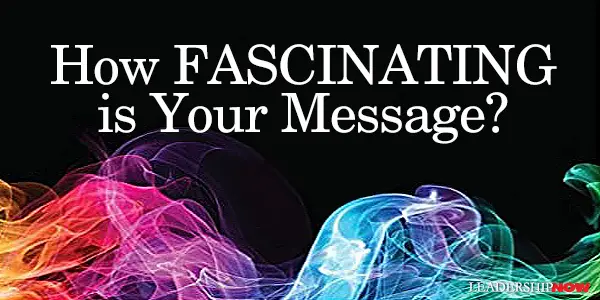 ROBERT LOUIS STEVENSON said, "Everyone lives by selling something." Leaders are always selling something—an idea, change, themselves or even their example. It's influence.
While we know a clear consistent message is necessary it is often hampered or even marginalized by competing messages and issues. Sally Hogshead is an expert at delivering messages and changing people's minds. In her book Fascinate: Your 7 Triggers to Persuasion and Captivation, she writes, "A competitive environment demands a more captivating message." A more captivating message is a more fascinating one. Fascination is the connection we make with others that causes them to change their mind and behave differently. "People won't change a preference, start a thought process, form a bond, or make a behavioral shift unless they're provoked to change their opinions or actions." Fascination provides the provocation.
A fascinating message steps outside the norms in one or more of the following ways: provokes strong and immediate emotional reactions (love it or hate it), creates advocates, becomes "cultural shorthand" for a specific set of actions or values (people identify with it), incites conversation, forces competitors to realign around it, and/or triggers social revolutions (forces us to think differently).
The key to mastering fascination is learning to effectively activate the seven triggers:
Lust creates craving for the sensory pleasure (Anticipation)
Mystique lures with unanswered questions (Know when to end your message)
Alarm threatens with negative consequences
Prestige earns respect through symbols of achievement ("We'll be fascinated by prestige as long as we remain hardwired to compare ourselves to those around us.")
Power commands and controls (As with the others, power lives on a spectrum ranging from delicate suggestion to crushing force. "Used intelligently and selectively, this trigger strengthens your reputation and earns respect.")
Vice tempts with "forbidden fruit," causing us to rebel against norms (The idea isn't to get your audience to sin, but to encourage them to "change their patterns and try something different.")
Trust comforts us with certainty and reliability (For building long-term relationships)
The point of all this is that you can make your message (or yourself for that matter) more fascinating. "All seven triggers affect decision making whether or not we intend them to." She offers tools for evaluating your message, developing the appropriate triggers and then executing those triggers. She says there's no "right" way to fascinate and that's a good thing because we all operate a bit differently and tend to utilize different combinations of the fascination triggers. On her web site you can find out your fascination score (F Score) by taking a short test.
In an interesting example concerning teenage drinking and driving she notes that a graphic photo of a car wreck doesn't seem to effectively dissuade teenage drivers. For teens, fear isn't necessarily a reason to avoid something. How do you provide a fascinating message for this group?
Luke Sullivan, a legendary advertising writer, solved the problem. Luke knew that teems don't fear death in the same way as adults. He also figured out what does create alarm among these drivers: Losing their license. Armed with that fact, he threatened teens with the ultimate dire consequence.

In Luke's ad, we see a picture of a teenage guy on the way to prom, with his corsage-wearing date at his side. The headline reads: "If the thought of losing your life doesn't keep you from drinking and driving, imagine losing your license." In the photo, the boy is being chauffeured to prom … by Mommy.
How could you change your message to make it more fascinating and thus more effective for your audience?
Throughout the book she blends art and science to demonstrate what fascinates people and why. You might be surprised to find out which fascinations are driving your own behavior. Her writing style and examples are very entertaining.
"Whether we realize it or not—whether you intend to or not—you're already using the seven triggers," she writes. "The question is, are you using the right triggers, in the right way, to get your desired result? By mastering the triggers, your ideas become more memorable, your conversations more persuasive, and your relationships more lasting."
How do you try to change people's minds? Could you make your message more fascinating?
* * *


Like us on
Instagram
and
Facebook
for additional leadership and personal development ideas.
* * *

Posted by Michael McKinney at 05:47 PM
Permalink | Comments (0) | This post is about Communication , Marketing , Problem Solving