Marc Benioff: How We Went From Idea to Billion Dollar Company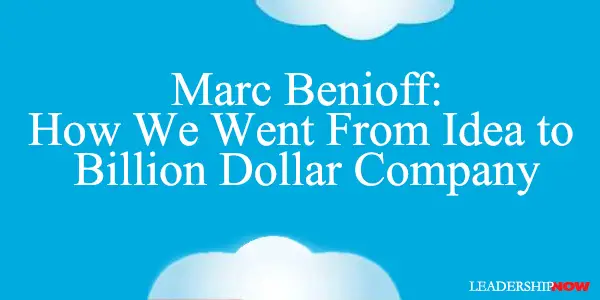 MARC BENIOFF begins: "I started salesforce.com in a rented apartment in 1999 with the goal of making enterprises software as easy to use as a Web site like Amazon.com. That idea—to deliver business applications as a service over the Internet—would change the way businesses use sophisticated software applications and, ultimately, change the way the software industry works. In less than a decade, our business has grown from a simple idea to a public company with more than a billion dollars in revenue.
We have achieved success by approaching business in a new way. The new models we have created…have been effectively employed by other companies, and we believe that any company can succeed with our strategies."
Behind the Cloud is divided into nine playbooks: Start-Up, Marketing, Events, Sales, Technology, Corporate Philanthropy, Global, Finance and Leadership. In these playbooks, 111 plays or lessons arise from the story of how they focused their vision, utilized available resources, overcame obstacles and measured their success that is woven through them.
While the Plays themselves won't blow you away, the stories behind them often provide great insight as to how they were implemented to build an extraordinary business. You'll find that many of them will resonate with whatever you are doing. Behind the Cloud is a fast, jargon-free read. The style is very open and down-to-earth and represents well the attitude and approach that made salesforce.com what it is today.
* * *


Like us on
Instagram
and
Facebook
for additional leadership and personal development ideas.
* * *


Posted by Michael McKinney at 08:41 PM
Permalink | Comments (0) | TrackBacks (1) | This post is about General Business