Eisenhower: No Born Leaders
The one quality that can be developed by studious reflection and practice is leadership.


—Letter to his son, John S. D. Eisenhower,
June 19, 1943
In contrast to George S. Patton Jr., who felt himself born to lead men into desperate battle and who believed that all great leaders are leaders by virtue of their destiny, Dwight Eisenhower thought that leadership could be acquired, learned through "studious reflection and practice." When his son, a West Point Cadet, expressed disappointment at having been promoted to ordinary cadet sergeant rather than given the distinction of promotion to color sergeant, Ike replied that it did "not indicate that you are lacking in the qualities of leadership" and explained that these qualities could be acquired.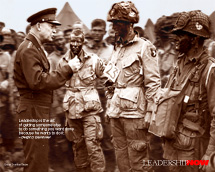 He went on to demystify leadership, telling his son that it was nothing more than the ability to "get people working together, not only because you tell them to do so and enforce your orders but because they instinctively want to do it for you…. You do not need to be a glad-hander nor a salesman, but your men must trust you and instinctively wish you to win your approbation and to avoid things that call upon you for correction."
Adapted from
Eisenhower on Leadership
by Alan Axelrod.
Of Related Interest:

Looking For Leaders

Dwight D. Eisenhower Wallpaper
: "Leadership is the art of getting someone else to do something you want done because he wants to do it."
Posted by Michael McKinney at 07:52 AM
Permalink | Comments (0) | This post is about Leadership