Leading Clever People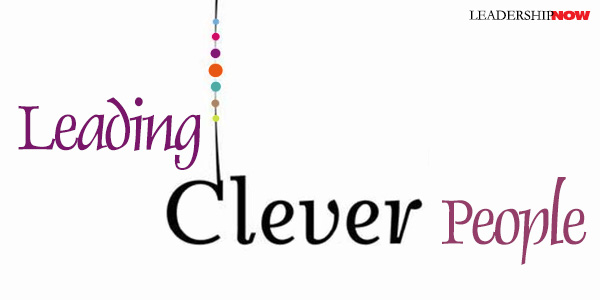 C
LEVER people, according to Rob Goffee and Gareth Jones, are
highly talented individuals with the potential to create disproportionate amounts of value from the resources that the organization makes available to them
. Distinct from those individuals that thrive on their own, clevers need organizations to produce remarkable results. And organizations need them. They can be the competitive difference. In
Clever
the authors write, "Without clever people, leaders cannot hope to succeed. Without good leadership, clevers can never realize their full potential."
Making the organization more valuable to the clevers
requires a different approach from leaders
. Leaders cannot be the ones that lead the charge up the mountain. "Rather they must identify the clever people with the potential to reach the summit, connect them with others, and help them get there.
In fact, successful leaders of clevers they interviewed don't even think of themselves as leaders. Instead they refer to their roles as a
compass
("to give that compass, that direction"), as a
magnet
("you have to be a magnetic field. You never touch anything."), as a
bridge
(bridging the technical side and the management side), or as a
plug
("connecting clever people to the rest of the business ... many clever people have a blind spot here born of their own conviction that their way is definitely the right way.").
The paradox is that while they don't want to be led, they need leadership in order to achieve their potential and create value for society.
Clever
helps you to identify who the clevers are and in a very practical manner, what a clever organization should look like.
Nestlé
demonstrates the importance of clarity in the clever organization—"clear about your priorities and efficient in delivering objectives." While they are keenly aware of those aspects of the business they should never change they have been able to change and continually innovate. That means avoiding the tendency to process people, an over-reliance on systemization, an addiction to efficiency, and the division of labor and the alienation of the workforce. These tendencies are an anathema to clevers.
The authors list several
dos and don'ts for leading clevers
:
| | |
| --- | --- |
| DOs | DON'Ts |
| Explain and persuade | Tell people what to do |
| Use expertise | Use hierarchy |
| Give people space and resources | Allow them to burn out |
| Tell them what | Tell them how |
| Provide boundaries (agree on simple rules) | Create bureaucracy |
| Give people time | Interfere |
| Give recognition (amplify their achievements) | Give frequent feedback |
| Encourage failure and maximize learning | Train |
| Protect them from the rain | Expose them to politics |
| Give real-world challenges with constraints | Build an ivory tower |
| Talk straight | Use bull or deceive |
| Create a galaxy | Recruit a star |
| Conduct and connect | Take all the credit as the leader |
* * *


Like us on
Instagram
and
Facebook
for additional leadership and personal development ideas.
* * *


Posted by Michael McKinney at 01:07 AM
Permalink | Comments (0) | This post is about Creativity & Innovation