Leading for Creativity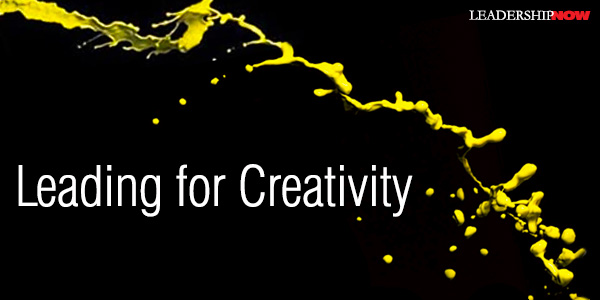 IN A press release for Gosford Park, director Robert Altman explains, "The characters in Gosford Park had very few mandates. There are certain things that happen in the plot, and most actors will read the script and come prepared, but I don't say, 'This is the way to do it.' They have the whole sphere of their character in their head, and I don't want to cut it down to a little slice of pie. There are plenty of people [on a project] that keep track and see that we get through plot points, but if I'm just shooting to get that stuff in, then I'm looking for the wrong thing. What I really want to see from an actor is something I've never seen before, so, I can't tell them what it is.
We normally shoot a few takes, even if the first one was terrific because what I'm really hoping for is a 'mistake.' I think that most of the really great moments in my films were not planned. They were things that occurred and we thought, 'Wow, look at that - that's something we want to keep!'"

This dovetails with what Piers Ibbotson writes in
The Illusion of Leadership
. "The best directors did not know in detail what was going to happen in the play until they saw me do it. They didn't tell me what I should do because they didn't know. This ability to carry on being in charge and maintaining the trust of a company, when you and I do not and cannot know in detail how things will turn out, seems to me to be at the heart of creative leadership in business and the arts."
Because, Ibbotson believes, that people outside the arts generally misunderstand the creative process and the behaviors necessary to encourage creative teamwork, they don't put a culture in place that promotes group creativity. It doesn't come from competitive individualism and it needs boundaries and constraints. "The creative juices get going when you are up against a boundary, at the edge of what is acceptable, possible, or known."
Ibbotson presents the leader as director. He explains how they release creativity and optimize innovation, how they give space to the creative drives of performers but still maintain an outcome that is true to the original vision and delivered on time and within budget. If the right culture is in place, innovation is not an issue.
* * *


Like us on
Instagram
and
Facebook
for additional leadership and personal development ideas.
* * *


Posted by Michael McKinney at 01:20 AM
Permalink | Comments (0) | This post is about Creativity & Innovation