Books To Read Before You Lead - Paradigms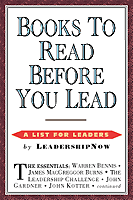 If you were born in the 80s you probably missed Joel Barker's
Future Edge
(now titled
Paradigms
) that was published in 1992. It is an important book and is well worth going back and reading. It will help you to imagine new possibilities by examining your own thinking.
While the word paradigm has been worked to death, understanding the rules that govern the behavior and thinking of individuals and groups is no less important. Paradigms reflect our view of the world and to a large extent predict our behavior. Adam Smith wrote in
Powers of the Mind
, "When we are in the middle of the paradigm, it is hard to imagine any other paradigm." The point is, if you can change the rules, you can change the future.
Barker argues that
paradigm pliancy
is the best strategy in turbulent times. Paradigm pliancy "is the purposeful seeking out of new ways of doing things. It is an active behavior in which you challenge your paradigms on a regular basis by asking the Paradigm Shift Question:"
What do I believe is impossible to do in my field, but, if it could be done, would fundamentally change my business?
And then asking the question:
Who outside my field, might be interested in my unsolved problems?
For leaders he offers the following thoughts. Keep in mind that managing and leadership are not mutually exclusive functions, but are best served in the presence of the other.
You manage within a paradigm.
You lead between paradigms.

That is the relation of paradigms to leadership. What allows you to "manage" within a paradigm"? The rules, the guiding principles, the system, the standards, the protocols. Give a good manager the system and a manager will optimize it. That is a manager's job. It is called paradigm enhancement.

Paradigm enhancement is taking the rules and making them better….Paradigm enhancement is what the Total Quality movement is all about. To be able to paradigm enhance is crucial to success and is the domain of the manager.

But you don't manage between paradigms. Remember, leaving one paradigm while it is still successful and going to new paradigm that is as yet unproven looks very risky. But leaders, with their intuitive judgment, assess the seeming risk, determine that shifting paradigms is the correct thing to do, and, because they are leaders, instill the courage in others to follow them.



This kind of change, paradigm shift change, occurs during less than 10 percent of our lives. Yet it is as important as the paradigm enhancing that consumes the other 90 percent. I don't say it is more important, but it is surely equal.

To be successful in the twenty-first century, you will need to be competent at both these kinds of changes for your organization to flourish. One without the other will not work.
Posted by Michael McKinney at 10:44 AM
Permalink | Comments (0) | This post is about Books To Read Before You Lead