Lead, Sell, or Get Out of the Way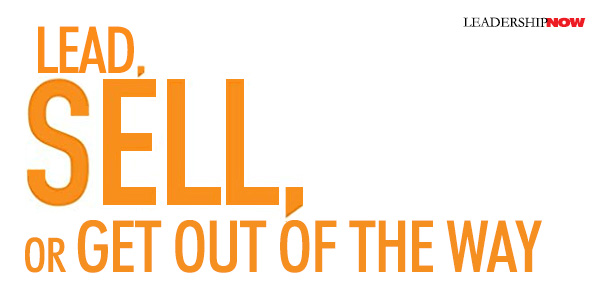 Lead, Sell, or Get Out of the Way
by Ron Karr provides more evidence that leadership isn't just about a few titled people at the top. It is a choice to think differently. Leadership is a choice to think differently about anything you do. Selling is no exception and is closely linked to the functions of a leader. Leadership is not always about people we "lead" in the conventional sense, but is frequently about people we must influence. Karr writes, "Whether you sell a product, a service, or an idea, you must be able to influence other people as leaders do."
It begins with being able to and understanding the need to engage others in continuous strategic conversations as part of the normal way of doing things—a process Karr has termed Integrated Dialogue. Integrated dialogue is a conversation of shared purpose that draws people out "to create a powerful relationship, one that identifies whole new zones of mutual opportunity, addresses far-ranging issues, and positions you as an invaluable resource: a leader."
As with all leaders, salespeople too will succeed when they fully appreciate the many relationships inherent in their success. Sales leaders lead a whole cast of people in their own organizations from the customer service, tech people to accounting and senior management. In addition, they lead not only their customer or end-user but also many points of contact in their customer's organization that are likely to have some input on the buying decision like operations, accounting, purchasing, and senior management. Gone are the days where everything filters through the salesperson. "Your success as a salesperson depends on your ability to build and sustain coalitions both inside and outside your organization. You must create and lead the coalition, no matter what you are selling." This will resonate with any leader:
Your job is to manage multiple constituencies and alliances and to use those alliances to identify new and better ways of generating the desired results. Your job is to do what most salespeople don't do: lead the conversation with your prospects and customers about the results they need, the problems they have, and the obstacles they face.
To make this happen you must possess and develop the belief that you have everything you need and can build on that, the belief that you can improve any area of your life, everything is possible, preparation maximizes your potential, and your customers—the people you need to influence—come first.
After laying the groundwork, Karr defines and explains the seven traits that great sales leaders share:
Visualize: Begin with the end in mind
Position: First impressions lay the foundation for the entire relationship
Build Alliances: They reach out; sales leaders leverage their influence
Ask Good Questions: Sales leaders ask powerful questions that uncover opportunities to enhance customer outcomes and results
Create Powerful Value Propositions: They create and deliver a powerful value proposition based on a simple formula that is based on both tangible and intangible incentives that motivate buyers to take action
Communicate Persuasively: They inspire action in others by delivering messages that are congruent with the larger purpose
Hold Themselves Accountable: Personal accountability matters. People are accountable to other people—not organizations
Karr demonstrates how to move from task-oriented selling (which is what most salespeople do) to purpose-oriented selling. These principles are worth bearing in mind on a personal development level as well. Karr encourages, "The bottom line is that you have the ability to increase your sphere of influence and sales just by the way you act toward those you are trying to influence." Change your conversations, change your outcomes. Leaders in any field will find much here to assimilate into their daily activities. Read it and grow.
* * *


Like us on
Instagram
and
Facebook
for additional leadership and personal development ideas.
* * *


Posted by Michael McKinney at 11:15 AM
Permalink | Comments (0) | This post is about Communication , General Business , Marketing , Personal Development , Teamwork