No Brilliant Jerks: How to Deal with Maverick CEOs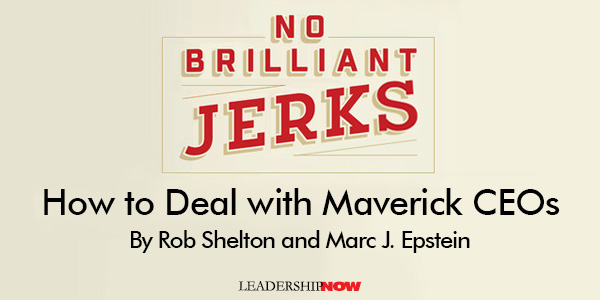 BOARDS and executives are feeling an unusual amount of pressure these days. And it's not from covid-19—the squeeze started several years ago. Witness that the average cost of directors and officers insurance has almost doubled in the past two years and experienced a 70 percent jump in the 2019 third quarter.
There are many underlying sources for the increased stress and skyrocketing insurance rates. But these days a maverick CEO is often at the center of board and executive consternation and investors' claims that leadership failed to protect the company. Elon Musk's various Twitter meltdowns have created significant indigestion among stakeholders and in May, Tesla disclosed that Elon Musk would provide personal liability insurance for the company's directors and execs to offset the increased costs and strain from legal challenges.
Increasingly, investors' challenges come from allegations of an unhealthy workplace climate because a strong-willed CEO who created a corrosive corporate culture. Travis Kalanick's brash operating style and the toxic working environment he created led him to be tossed out of the company. After reviewing the culture created by Kalanick and seeing employee and shareholder reactions, one exasperated Uber board member proposed adding "no brilliant jerks allowed" to Uber's list of cultural values.
Adam Neumann's actions at WeWork are classic brilliant jerk moves. He is a smart, entrepreneurial visionary with great charisma. But he also established a corporate culture that was filled with large doses of alcohol and drugs (according to employees). Martin Winterkorn, Volkswagen's CEO, was fired because he created an extreme company culture—described by Der Spiegel as "North Korea without labor camps"—that drove employees to create and install illegal software that cheated on vehicle emissions tests.
Companies will always embrace visionary leaders that challenge the status quo and create great companies even if they create a hard-driving culture. Steve Jobs, an obstreperous CEO, returned to Apple after his ouster by the board to create a trillion-dollar giant. Reed Hastings created a powerful no-holds-barred Netflix culture, navigated through tough competitive challenges, and changed the entire media industry. Jeff Bezos envisioned and created Amazon—a company with an intense culture and an immense competitive footprint the likes of which no one has ever seen before.
To maintain company vitality, guide the creation of a healthy culture, and head off pressure from stakeholders, leadership needs to up their game with a maverick CEO to simultaneously support the game changing talent of the hard-driving visionary and maintain the structure, systems, and guidance required for effective corporate governance. To understand how that balance is struck, we talked with experienced board members and senior executives to capture the hard-won lessons of successfully working with a rule-breaking visionary.
Here are several of the lessons learned.
1. Close the door. Executive sessions with the CEO out of the room are essential. The SEC mandates these closed-door meetings, but they take on critical importance in a brilliant-jerk scenario. Executive sessions are the times when the board grapples with if, when, and how to get involved.
2. Curate the culture. Cultural erosions at VW and Uber were not detected early enough, and destructive behaviors spread throughout the company. To give culture the attention it deserves and head off corrosive environments, boards establish a committee to actively oversee goals, incentives, practices, and processes that drive behaviors and the company culture.
3. Mind the gaps. One of the most important functions of the board is supplementing the change maker's managerial gaps. Whether the founder is young and inexperienced, or just has not been exposed to key functions, the board has the responsibility to provide guidance to the CEO on how to supplement their leadership toolbox. Consider adding a senior executive that can join and balance out the leadership role like Schmidt did at Google.
4. Be contrarian. The CEO's brilliance generates the electricity that energizes a company's success, but not everyone can be right all the time. Challenging ingenious leaders and keeping them focused on the critical activities is one of the leaderships most important jobs. "Often the board does not act sufficiently suspicious. Only a small percentage of directors are good at pushing back. They tend to trust the CEO too much" was the observation of a seasoned board member.
In the course of our discussions with leaders we identified three framing principles you need to embrace to put the best practices to use.
An authoritarian trailblazer requires special handling. Traditional corporate governance principles are needed but must be supplemented with additional practices. With an inspired and highly controlling powerhouse at the helm, boards, investors, and employees need to be ready for a different kind of journey.
Your actions depend on the type of visionary you are dealing with. Dominant, disruptive visionaries are not all the same. With some, there is a risk of getting in the way and curtailing the value they could create—you need to use the best practices to help them attain their vision. With other types, complacency is a huge mistake. Left unsupervised, their behavior could obliterate value and possibly destroy the company.
The best defense is a good offense. Boards and executive leaders should act to avoid the pressures that can be generated from a disruptive CEO—not wait until they are feeling squeezed.
* * *

Rob Shelton
is a globally recognized Silicon Valley–based consultant, author, and speaker on entrepreneurial excellence, breakthrough innovation, and scaling to drive rapid growth. Over the past 40 years, Shelton served as trusted partner and adviser to board members, CEOs, and senior executives at leading organizations in the valley and around the world. Connect with Shelton via
[email protected]
.
Marc J. Epstein, PhD
was, until recently, Distinguished Research Professor of Management at Jones Graduate School of Business at Rice University in Houston, Texas, as well as a former professor at Stanford Business School, Harvard Business School, and INSEAD. Dr. Epstein has written extensively on corporate and nonprofit board governance, and the role of boards of directors. Connect with Epstein via
[email protected]
Rob and Marc are coauthors of
The Brilliant Jerk Conundrum: Thriving with and Governing a Dominant Visionary
.
* * *


Like us on
Instagram
and
Facebook
for additional leadership and personal development ideas.
* * *


Posted by Michael McKinney at 09:04 AM
Permalink | Comments (0) | This post is about General Business