Abraham Lincoln Was Born 200 Years Ago Today
A
braham Lincoln was born 200 years ago on this day, February 12, 1809 in Hardin County, Kentucky to Thomas and Nancy Lincoln. Abraham was their second child and took his name from his paternal grandfather. He had an older sister named Sarah. He was the first President to be born outside the 13 original colonies.
Also on this day, Charles Darwin was born. The world was changing. The Industrial Revolution was in full swing. The day before, Robert Fulton patented his steamboat. An invention that would prove to change the course of commerce throughout the world.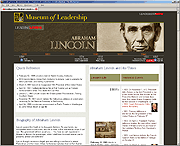 A few weeks later, on March 4, James Madison took the oath as the 4th President of the United States, succeeding Thomas Jefferson.
Just five years before, the nation doubled in size with the negotiation of the Louisiana Purchase from France in 1803. It was a country more interested in things domestic than foreign. Also born in 1809 were William Gladstone, Alfred Lord Tennyson and Edgar Allan Poe.
* * *
Of Related Interest:

Lincoln's Lessons: Humor Communicates Like Nothing Else

Lincoln's Lessons: Invest In Who You Are

Lincoln's Lessons: Endure Unjust Criticism

Lincoln's Lessons: Think Things Through

Lincoln's Lessons: Listen To and Value Others

Abraham Lincoln and His Times
. Here you will find a timeline of the events of Lincoln's life in the context of the times in which he lived.

Abraham Lincoln Wallpapers
* * *

Like us on
Facebook
for additional leadership and personal development ideas.
Posted by Michael McKinney at 01:12 AM
Permalink | Comments (0) | TrackBacks (3) | This post is about Lincoln's Lessons