The Lack of Substance in Public Speeches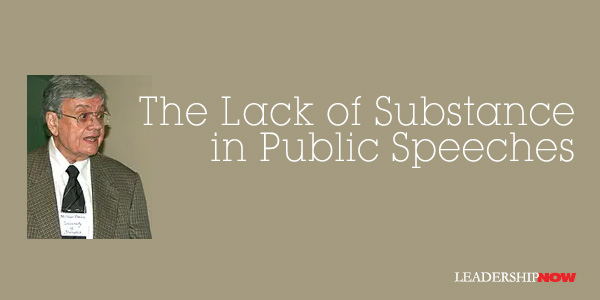 PUBLIC speaking expert Michael Osborn recently delivered a speech to the Georgia Communication Association, where he stated that he has watched a problem become a crisis. The crisis is the lack of substance in the speeches we hear. He states:
It is the declining quality of reasoning, the neglect of evidence both by speakers and listeners. It is the erosion of standards that lets so much slide by unquestioned—and that results sometimes in tragically flawed policies and practices. It is our impatience with debate and our unwillingness to play active roles as citizens in deciding public policy.

This crisis, we argue, could illustrate Plato's famous (and infamous) attitude about the public audience. Plato believed that in general, people don't really want to be informed and improved by public communication. Rather, they want to be flattered and reassured that whatever beliefs they hold are justified and correct, no matter how ill-informed these beliefs may actually be. Their so-called "leaders" are really followers who simply reinforce and exploit public opinion without attempting to improve it.
As leaders, are we leading or pandering? It's time to build up our thinking, reasoning and reasearching skills to counter "an increasingly mass-mediated and cynical culture."
* * *


Follow us on
Instagram
and
Twitter
for additional leadership and personal development ideas.
Posted by Michael McKinney at 09:21 AM
Permalink | Comments (0) | This post is about Communication