Getting the Information You Need
In the Spring issue of the
Leader to Leader Journal
, authors Mark Ronald and Robert Shaw tackle the issue of getting the good information needed to make informed decisions in
Developing Peripheral Vision
. The problem we are often faced with is that people are reluctant to talk about their concerns. They write, "For a variety of reasons, individuals often communicate in subtle or even misleading ways in regard to how they feel about a key decision." There is a lot that we as leaders, can do contribute to the problem of open and clear communication.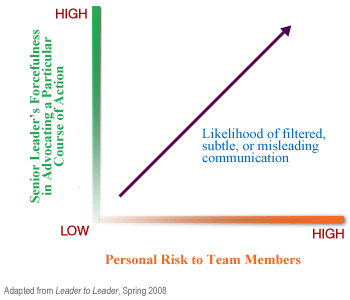 They list six behavioral flags or signals that might mean that the leader needs to take more direct action to get the information they need. In brief:
Silence:
In leadership teams, members who don't support the trend of a decision often simply disengage from the dialogue and remain silent rather than pose a contrary point of view—particularly if the leader appears to support the decision or the group is moving quickly to closure. Who has checked out?
Non-answers:
People can opt out by appearing to agree with the leader when, in fact, they do not. "If you think it's the right decision, that's good enough for me."
Omissions:
It is often what is not said that is most critical—particularly on issues that the leader believes will be problematic.
Specific language:
People surface their true feelings in hundreds of subtle ways. Leaders need to pay attention to the specific use of words that are flags suggesting that more discussion or follow-up is needed.
Offline input:
Often, the insights people bring to a leader (or each other) during the breaks of meetings or in informal hallway conversations are more important than what is said in formal discussions.
E-mail traffic:
In many firms, e-mail offers insight into potential issues that may require a leader's attention. For example, an overly formal e-mail message with multiple people copied (or blind copied) is often a protective action taken by a team member with concerns.
It is up to the leader to determine what is important and what is simply noise.
Posted by Michael McKinney at 01:26 AM
Permalink | Comments (0) | This post is about Communication , Problem Solving