What to Do When Things Go Wrong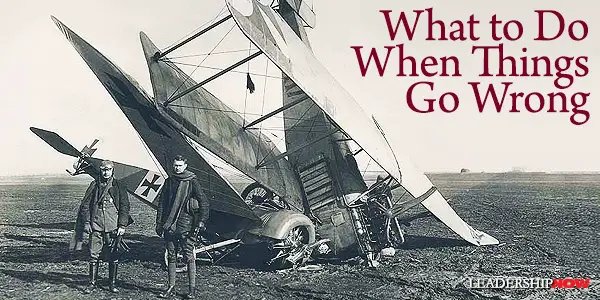 WHEN THINGS GO WRONG, we often begin by asking ourselves the wrong questions like "Why is this happening to me?" In QBQ, John Miller writes that "our first reactions are often negative, bringing to mind incorrect questions. But if in each moment of decision we can instead discipline our thoughts to look behind those initial questions and ask better ones (QBQ's – the Questions Behind the Questions), the questions themselves will lead us to better results….The answers are in the questions."
When a problem (or a challenge is you prefer) arises, we start looking for some control of the situation. The problem is, we quite naturally begin by looking at those around us and ask the wrong types of questions like "why?" and "who?" The wrong questions take away any control of the situation we might otherwise gain.
In LeaderShock, Greg Hicks suggests that we look for meaning in the situation first. Ask self-revealing questions like:
What does it say about me that I have this problem—about my practices, my departmental policies, my relationship with customers and staff?
What can I learn from this?
How can I make this situation useful to me and my employees?
He adds, "You're on shaky ground if you attempt to fix a problem without first understanding what it means to you and your organization. By looking for inherent meaning, you open a rich treasure chest of valuable gems that lead to new information, insight, and opportunities."
John Miller stresses that the right questions contain an "I" and not "you," "they," and "them." "I" questions lead to action. "Questions that contain an "I" turn our focus away from other people and circumstances and put it back on ourselves, where it can do the most good. We can't change other people. We can't control circumstances and events. The only things we have any real control over are our own thoughts and actions. Asking questions that focus our efforts and energy on what we can do makes us significantly more effective, not to mention happier and less frustrated."
* * *


Like us on
Instagram
and
Facebook
for additional leadership and personal development ideas.

Posted by Michael McKinney at 10:28 AM
Permalink | Comments (0) | This post is about Personal Development , Problem Solving