Insultants Wanted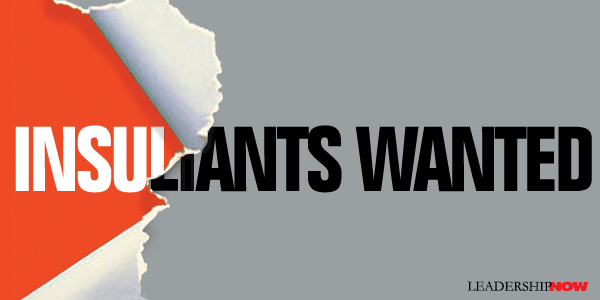 W
E need people who will tell us like it is in the right way. Often we don't like to hear what they have to say but we should never discourage them. Frequently, leaders are the last to know. Keith McFarland author of
The Breakthrough Company
, calls these straight-shooters
insultants
(inside consultants). He describes them as those people "willing to ask the tough questions that cause a company to think critically about its fundamental assumptions. The value of insultants is that they will go to great lengths to get their companies to reevaluate a position or adapt to a changing environment."
If you think that you welcome these people, think again. A survey showed that while 90 percent of CEOs believed that their companies regularly implemented ideas that the CEO initially didn't like, only 60 percent of their direct reports agreed.
McFarland reports that people tend to differ to authority and rank because they feel that they must know better. "But often authority figures are wrong, and if an organization doesn't have a strong insultant culture, errors are likely to be propagated throughout the company."
If you feel you are an insultant, don't think you begin by charging in like a bull in a china shop. There is a right way and a wrong way to do things. You are trying to make the leader successful, not trying to show how smart you are or place the spotlight on yourself. Good insultants must learn to excel at relationships based on genuine care for others. McFarland offers these tips that one would do well to heed:
Be Empathetic. Yours isn't the only point of view. Understand where others are coming from.
Don't Attack. Finger pointing is not acceptable. "The most powerful tool in the insultant's arsenal is the question—and knowing how to ask the right question at the right time."
Don't Triangulate. "Most people find talking behind someone's back to be insulting—so effective insultants avoid it at all costs."
Don't Kid Yourself—Your Real Motivation Will Be Obvious. "If you mean to embarrass, demean, or criticize another person, while you might succeed in that goal, you will have unnecessarily sacrificed any opportunity you had to contribute change."
Be a Grown-Up. "An insultant's job is to make sure an issue gets a thorough vetting, not to convince everyone to see the world his or her way."
Be Assertive and Persistent. "Not everyone will be receptive to the hard truth, so an insultant must be both assertive and persistent, returning to the issue as often as he or she thinks is necessary to get the point across.
As a leader, you gain nothing by not knowing what people are thinking. People with ideas and challenges to your way of doing things are not necessarily being insubordinate. They are practicing leadership. Leaders can encourage a candid environment be celebrating productive failure, involving people enough in the issues that they can make intelligent contributions, focusing on both employees and customers that have left the company, and using humor to encourage frankness and trust.
* * *


Like us on
Instagram
and
Facebook
for additional leadership and personal development ideas.
* * *

Posted by Michael McKinney at 01:47 PM
Permalink | Comments (0) | TrackBacks (1) | This post is about Change , Leadership Development , Management , Problem Solving