Konrad Lorenz on Reflection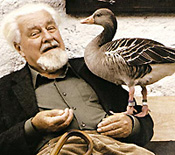 In his book,
Civilized Man's Eight Deadly Sins
, Austrian zoologist and Nobel Prize winner Konrad Lorenz, wrote of what is lost in man's race against himself.
Anxious haste and hasty fear help rob man of his most essential properties. One of these is reflection. . . . A being unaware of the existence of its own self cannot possibly develop conceptual thought, word language, conscience, and responsible morality. A being that ceases to reflect is in danger of losing all these specifically human attributes.

One of the worst effects of haste, or the fear engendered by it, is the apparent inability of modern man to spend even the shortest time alone. He anxiously avoids every possibility of self-communion or meditation, as though he feared that reflection might present him with a ghastly self-portrait, such as that of Dorian Gray. The only explanation for the widespread addition to noise—paradoxical considering how neurasthenic people are today—is that something has to be suppressed. . . . I think he [is] only afraid of meeting himself.