Deciding How We Decide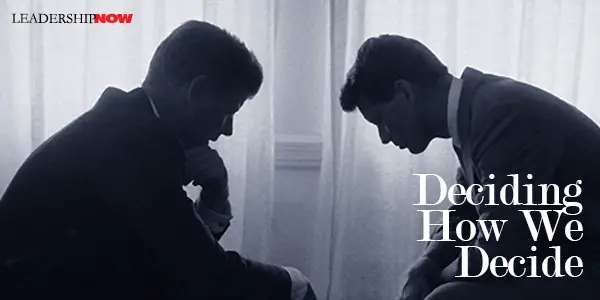 H
OW WE COME to decisions has to be as important as the decisions we come to. Changing how we decide may be the fundamental shift we can make in how we—as individuals and organizations—change. It is appropriate to spend some time thinking about it. While a single person may make the final decision, it should always be made in an atmosphere of open listening and sharing.
In
Why Great Leaders Don't Take Yes for an Answer
, professor Michael Roberto, devotes a chapter to this issue. He begins by showing how John F. Kennedy changed the
decision-making process
from the tactics employed in the failed Bay of Pigs decision to the better process employed in coming to the successful conclusion of the Cuban Missile Crisis. It demonstrates "how leaders can learn from failures and then change the process of decision that they employ in the future." It's an interesting case in demonstrating the importance of deciding how we decide and having the mindset to do so.
He discusses four critical choices that affect a leader's ability to "cultivate constructive conflict and build enduring consensus:
First, the leader determines the
composition
of the decision-making body. The selection should be based on access to expertise, implementation needs, the role of personal confidant, and the effect of demographic differences.
Second, they shape the
context
in which deliberations will take place. What norms and ground rules will govern the discussions?
Third, the leader determines how
communication
will take place among the participants. How will people exchange ideas and information, as well as generate and evaluate alternatives? Structured? Free exchange?
Fourth, the leader must determine the extent and manner in which they will
control
the process and content of the decision. What roll will the leader play?
Roberto adds these important cautionary comments about content-centric and process-centric learning:
When decision failures occur, many executives focus on the issues involved, and they seek to identify the mistaken judgments and flawed assumptions that they made. However, many leaders do not push further to investigate why they made these errors. Too many of them engage only in content-centric learning. By that, I mean that they search for lessons about how they will make a different decision when faced with a similar business situation in the future.

Kennedy adopted a different learning orientation. He engaged in process-centric learning, meaning that he thought carefully about why the Bay of Pigs decision-making procedures led to mistaken judgments and flawed assumptions….He searched for lessons about how to employ a different process when faced with tough choices in the future.
Good material.
Check it out.
See Also:

JFK's Leadership Style
* * *


Like us on
Instagram
and
Facebook
for additional leadership and personal development ideas.
* * *

Posted by Michael McKinney at 01:41 PM
Permalink | Comments (0) | This post is about Learning , Problem Solving , Thinking